Workers' Compensation Insurance for Self-Employed Individuals
Last Updated on November 29, 2022
More than 10% of the 150 million workers in the United States are self-employed. A study also showed that more and more individuals are turning to self-employment post-COVID-19 pandemic as a means to control their working hours and become their own boss after having to juggle household work and even losing their jobs.
Source: Pew Research Center
The increase in self-employment in 2021 also shows a stronger rebound from the 2019 recession. With this, self-employment is looking to be a more popular option for people today.
The rise in self-employment means that people are finding new and innovative ways to start their own businesses. This is great news for the economy as a whole, as it will lead to more job creation and economic growth.
However, as people run their businesses on their terms, many self-employed individuals cut on workers comp insurance to save on premium costs, especially since most state laws only require it for those who hire employees.
But what happens when self-employed individuals suffer accidents while doing their job?
The truth is, being self-employed does not exempt you from the risk of on-the-job injuries and being unable to work. This is why you need to carry workers' compensation insurance, even if it's not required by law.
Having your own workers' compensation insurance can provide benefits for medical expenses and lost wages due to work-related injuries or illnesses, regardless of who is at fault.
This can give self-employed individuals the peace of mind and financial security they need in case of an unfortunate event.
In this article, we'll break down why workers comp for self employed individuals is important, what it covers, and how to obtain the best coverage.
Workers' Compensation Insurance for Self-Employed Risk Management
As mentioned, states only require workers' compensation for employees, but, in contrast, some states will offer workers' comp coverage for self-employed workers, through voluntary plans or special funds.
This is because workers' comp insurance is a wise investment even for those who work on their terms.
Here are some reasons why:
Workers' comp coverage protects self-employed workers from financial losses due to work-related injury or illness. For instance, a freelance photographer who lugs around heavy equipment by himself/herself, works long hours exposed to the elements and stays in straining positions puts himself/herself at great risk each time they go on a gig. Whether they hurt themselves through mishandling equipment or expose themselves to sickness from event guests, their hospital bills that add up quickly could be covered by their workers' comp.
To cite another instance, if that same self-employed photographer needs time to recover as a result of work-induced harm, his/her coverage can provide much-needed financial support during these trying times.
Workers' compensation can also provide benefits for permanent disabilities, allowing self-employed individuals to continue earning an income and supporting their businesses despite not being able to work in full capacity.
Last but hopefully a benefit one would not be eligible for are the death benefits under this policy. Death benefits can provide financial support for the self-employed individual's family should an untimely death happen while they are performing their job.
Overall, workers' comp insurance can protect self-employed individuals and their businesses from financial losses in case of on-the-job accidents.
What Does Workers' Compensation Cover for Self-Employed Individuals?
Workers' compensation insurance or workers comp insurance is a type of policy that covers a wide range of work-related hazards, including exposure to hazardous materials for those who work with chemicals and carcinogens, equipment malfunctions for mechanics and other professions that make use of tools, and even repetitive stress injuries, especially for skilled workers.
Workers comp typically covers medical expenses, lost wages, and other work-related injuries incurred by eligible employees, as well as funeral expenses in the case of workplace fatalities.
Because workplace accidents can result in serious financial burdens for both employees and employers, workers' compensation insurance serves an important role in protecting both parties against the risk of injury or illness.
Although it comes with some associated costs, this form of coverage is essential for ensuring the health and safety of everyone who works on the job, even more so if you are self-employed. As such, you may want to look at other types of insurance to include in your policy as a self-employed worker.
How Can Self-Employed Individuals Obtain Workers' Compensation Coverage?
Because securing workers' compensation insurance can be difficult when you're self-employed, many independent contractors are left without vital protection.
However, there are steps that self-employed individuals can take to obtain the coverage they need and protect their livelihoods.
One option is to work with an insurance broker who specializes in providing workers' compensation coverage to self-employed individuals. These brokers will typically work with several different companies, allowing them to find the most suitable policy for each client's needs and budget.
Additionally, some states have voluntary pools specifically designed for self-employed individuals and sole proprietors, which may also offer affordable workers' compensation options.
Ultimately, self-employed individuals need to understand their legal obligations when it comes to workers' compensation coverage and actively seek out the options that are available to them.
With some careful planning and research, securing adequate coverage should be possible regardless of your employment status.
How Much Does Workers Comp for the Self-Employed Cost?
The cost of workers' comp insurance for self-employed individuals varies greatly, depending on factors such as the type of industry and the individual's level of risk.
Generally, high-risk industries will have higher premiums while low-risk industries will have lower premiums. Examples of those belonging to high-risk industries are businesses that handle sensitive client information or render professional services, while low-risk industries are those that work with low-value objects that are easily repaired or replaceable.
For example, some occupations, such as home healthcare aides or roofers, will typically have higher rates since they involve lots of physical labor and the possibility for injury on the job is much higher than in other fields.
Other factors that come into play include things like previous losses, one's claims history, safety violations, any potential downtime if an employee becomes injured and needs time away from work, and additional services such as training or drug testing programs offered by the insurance company.
Overall, choosing workers' comp insurance is a complex process that requires careful research and consideration of all these different factors involved.
But with some effort and diligence, anyone can find a plan and purchase coverage that perfectly caters to their needs without breaking the bank. After all, being self-employed doesn't mean you should have to work any harder!
Top Providers of Workers Compensation for Self-Employed Workers
Are you now ready to look for where you can get your very own workers' compensation insurance policy? Here are some insurers from where you can purchase self-employed workers comp:
Hiscox
Hiscox is a great insurance company for the self-employed. They have been around for over 100 years and are a leading provider of workers' compensation insurance that you could combine with multiple other specialized coverages no matter what industry you belong to.
Although their premiums may be on the high side, they offer top-notch customer service with offices across the United States with a team of insurance experts always available to help you with your insurance needs.
Hiscox has offerings from general liability to medical malpractice and even short-term liability insurance if you work by the job.
SimplyBusiness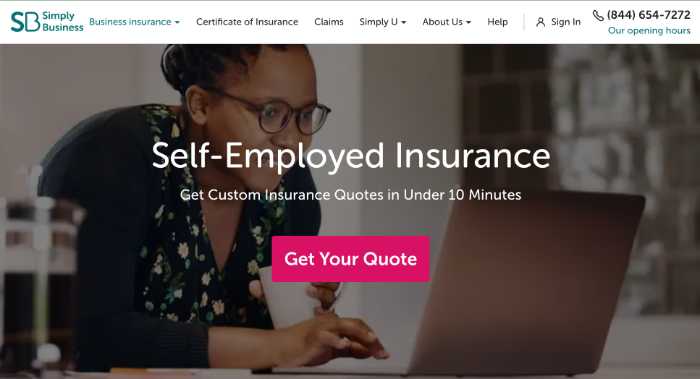 SimplyBusiness is a business insurance company that offers workers' compensation insurance for the self-employed. They are partnered with many insurers, so you have a variety of options to choose from when it comes to your self-employed insurance. What is more, getting a quote from them will automatically give you a side-by-side comparison of your premiums from different companies so you could easily weigh your choices.
SimplyBusiness is a great option for business owners who are looking for quality insurance coverage as they have also been in the industry for a while and are among the top providers of insurance in the United Kingdom.
biBERK
biBERK is a reputable insurance company that provides quality workers' compensation insurance. They have a team of experienced and knowledgeable professionals who are always available to help clients with their needs.
A Berkshire Hathaway company, biBERK is committed to providing excellent customer service and has a proven track record of success as Berkshire Hathaway has been a provider for decades.
According to the above brief from their website, they recommend the self-employed and even independent contractors to still get workers' comp and list several reasons for when a workers comp policy would be useful.
NEXT
NEXT provides business insurance for an expansive number of professions. They have many options for coverage, including types of liability insurance that would benefit those who are self-employed and packages that go from Basic to Pro Plus depending on the coverage limits you prefer and need for your business activities.
With some of the most competitive prices on insurance and an easy-to-use mobile app, you could manage and update your policy from anywhere.
InsuranceBee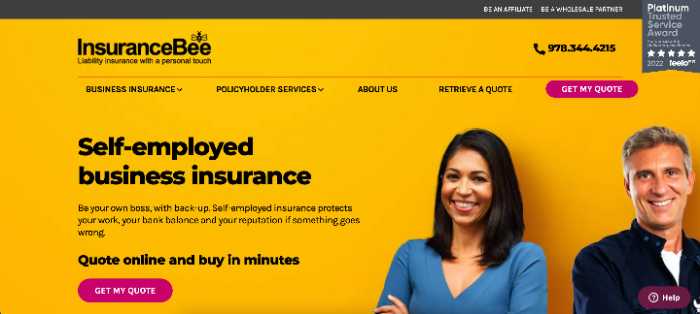 InsuranceBee is among the best options for the self-employed given the nature of your field and the specialty of the company. They work closely with their clients and offer different types of liability insurance for independent contractors, freelancers, and other busy bees relying on themselves.
Among their offerings are professional liability insurance, management liability insurance, business owners' policy, and general liability insurance starting at as low as $17 a month.
You can reach an experienced InsuranceBee agent by phone.
Thimble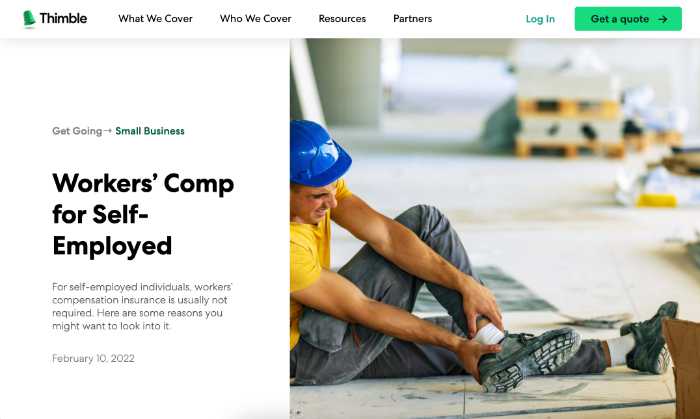 Thimble offers on-demand insurance, so, if you're self-employed and take jobs by the hour, day, week, or month, Thimble, its offerings, and mobile app for managing your policy may come in handy for you.
Thimble offers key coverages such as general liability insurance, a BOP, as well as commercial property insurance, and event insurance for more specialized jobs. Who wins the business insurance battle Thimble, Next, or InsuranceBee?
Conclusions
Despite advances in technology and increased access to virtual office spaces, many self-employed workers still benefit from having a comprehensive workers' compensation policy in place.
Not only does this policy provide coverage for any work-related injuries or illnesses, but it also helps to mitigate the financial risks that come with working independently.
This is particularly important given the fact that most self-employed workers do not have access to employer-sponsored health insurance plans or other sources of social protection.
Workers comp policies offer self-employed individuals affordable protection against common accidents or injuries that could occur at work.
Even though self-employed workers are always changing and reinventing their jobs, a good workers' compensation program can still be an important resource.