Mechanics Tool Insurance Covers Your Assets
Last Updated on April 14, 2023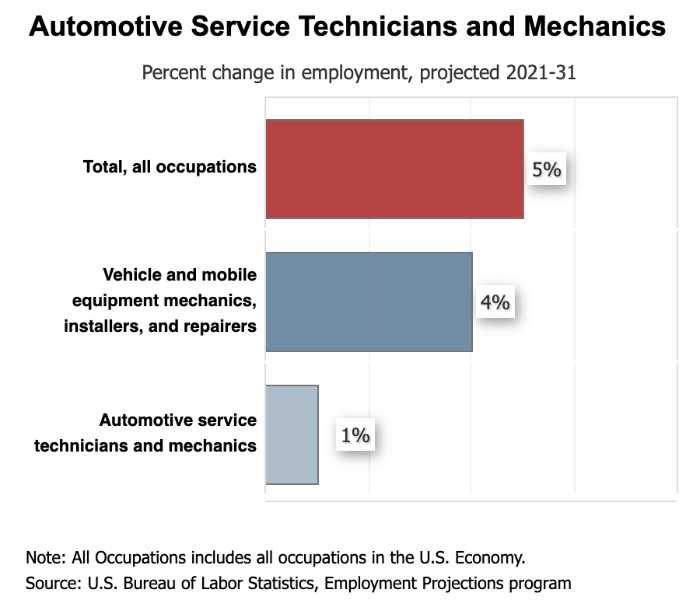 Despite the rise in electric vehicles and newer automobiles with technology allowing predictive maintenance and even self-diagnosis, mechanics as an occupation is projected to be stable in the next decade.
After all, there is nothing that can match mechanics' understanding of physical forces such as pressure and torque and how these can be harnessed to achieve specific goals and ensure durability and safety.
On the other hand, a mechanic's in-depth knowledge could not be put to use without tools and equipment. And just as his expertise is built on years of training and experience, a mechanic's tools and equipment could also cost up to tens of thousands of dollars.
This is why mechanics must have proper insurance coverage for their tools and equipment. Otherwise, they could be left with hefty bills in the event of damage or theft.
Mechanics tool insurance can cover damages caused by natural disasters, fire, vandalism, theft, and accidents on the job site. It can also provide coverage for lost income if the tools are essential to completing a job or project.
Therefore, don't let your hard-earned tools and equipment go to waste – invest in coverage today! We will be guiding you through everything you need to know beyond general liability insurance in today's article.
Tools & Equipment Insurance for Managing Mechanics' Apparatus
Almost every technician will tell you that having the right tools and equipment is essential for getting any job done well. Whether you specialize in auto repair, construction work, or another type of hands-on trade, having the right mechanic tools and equipment at your disposal can make a big difference when it comes to completing projects quickly and accurately.
Unfortunately, this also means that these valuable assets are vulnerable to damage or theft, and without adequate coverage, a single disastrous incident could leave you facing significant financial loss.
Tools and equipment are expensive, so, mechanics need to have business property insurance to protect their investment. This type of coverage helps to safeguard against loss or damage due to weather events, vandalism, accidents, natural disasters, and other unforeseen perils.
In addition, property insurance offers important protection against the risk of theft. Because tools and equipment often represent a significant investment on the part of the business owner, this added layer of protection is essential for anyone who depends on their tools day in and day out.
Ultimately, insuring your tools is an important way to help safeguard your business assets against potential risks while allowing you to focus on what you do best: running your thriving mechanic business.
What Does Tools & Equipment Insurance Cover for Mechanics?
At its most basic level, tool insurance is designed to help get employee tools insured. By providing financial protection against the unexpected expenses associated with broken machinery, this type of coverage can be a valuable asset for business owners.
In addition to outright damage or loss, tool insurance can also provide financial coverage in the event of theft or other malicious acts. As such, it can offer vital protection in situations where conventional home or property policy may not apply.
Furthermore, many policies also include coverage for wear-and-tear or normal degradation over time, facilitating the long-term cost management that is essential for businesses operating in highly competitive markets.
How Can Mechanics Obtain Tools & Equipment Insurance?
Fortunately, obtaining a policy to have your tools covered is a relatively straightforward process. The first step is to assess the value of your business's assets – including both individual items as well as overall inventory – to determine the appropriate level of coverage.
Next, it's important to research your options for providers and compare policies in terms of coverage levels, cost, and other factors that may be relevant to the specific needs of today's mechanics.
Once you've selected an appropriate policy, the final step is simply filling out any required paperwork and making payment arrangements. Many providers also offer convenient online purchasing options for added convenience.
How Much Does Mechanics Tools Insurance Cost?
Mechanics tool insurance can be pricey. Some factors that contribute to the cost include the value of your collection of tools, the location of the business, and the insurer's underwriting criteria.
On average, most mechanics will spend a hundred to several hundred dollars per year on business property insurance.
Additionally, different insurers will charge varying premiums, so it is important to shop around before making a purchase decision. Still, with some knowledge about mechanics' tool insurance and a little bit of research, you should be able to find an affordable policy that fits your budget and provides the protection you need.
Top Providers of Tools & Equipment Insurance for Mechanics
Now that you know what business property insurance covers, let's take a look at some companies that offer it to help you decide which one is best for your activities as a mechanic.
NEXT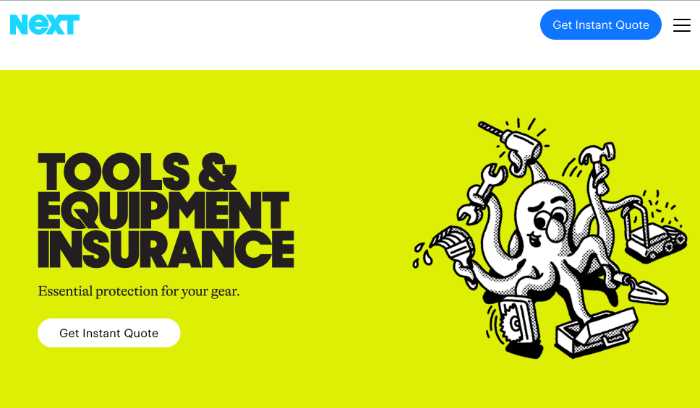 NEXT insurance prides itself on offering top-notch coverage for a wide range of tools and equipment. Whether you need coverage for large machinery or smaller handheld devices, they offer competitive rates and flexible plans to meet the needs of busy auto mechanics.
Their team of experts is also always on hand to help you navigate the complex world of equipment insurance, giving you the peace of mind you deserve. And with their easy-to-use mobile app, you can stay up-to-date on your policy anytime and anywhere, making it simple to manage your coverage from anywhere.
Hiscox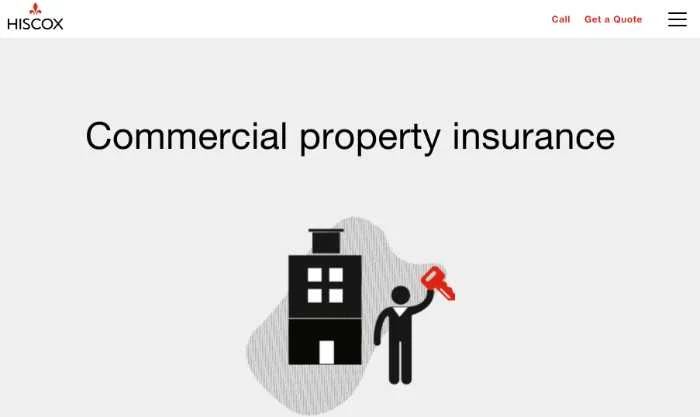 With years of experience serving the unique insurance needs of businesses like yours, Hiscox has the expertise and resources needed to tailor a policy that meets all your needs.
Whether your focus is light-duty or heavy-duty work, mobile or shop-based service, they can help ensure that all your costly assets are fully covered against potential risks.
Their team offers 24/7 claims support and easy online access so you can have peace of mind when it comes to protecting your assets.
Thimble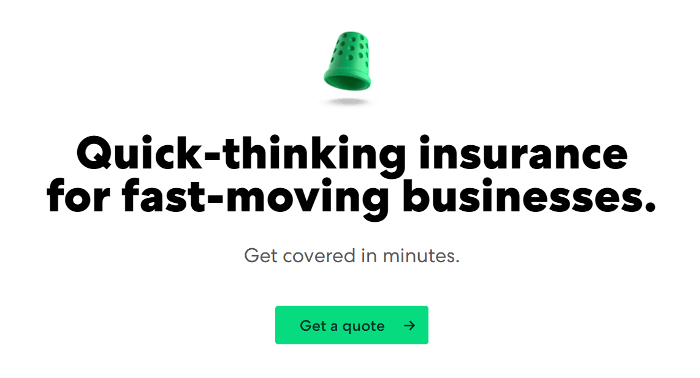 Thimble believes believe that commercial property insurance should be accessible to everyone. That is why they have developed a convenient mobile app that gives customers access to the most up-to-date information and features on the go.
Whether you're on the road, at the office, or simply out and about in your community, the app makes it easy to get quotes, purchase coverage, and make changes to your policy whenever and wherever you need it. And with their quick and easy onboarding process, you'll be covered in no time!
Thimble also offers on-demand insurance for mechanics who work by the job, hour, day, week, or month. For a head-to-head comparison, read our Next vs Thimble vs Hiscox review.
SimplyBusiness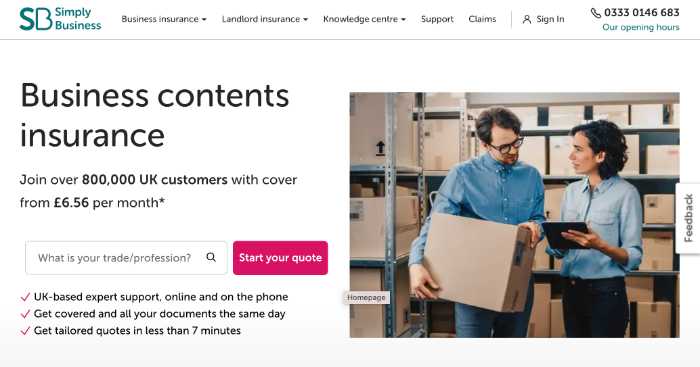 SimplyBusiness offers insurance for business contents such as office furniture and equipment. This type of insurance can help protect your company if your property is damaged or stolen.
It can provide coverage for a wide range of items, including computers, printers, and office furniture. If you're looking for protection for your business property in general, consider business contents insurance from SimplyBusiness.
They are also partnered with multiple insurers so you have multiple options where to get your coverage.
Conclusions
Whether you're a professional mechanic or someone who simply likes to do car maintenance, having the right equipment is essential. With all of the specialized parts and materials involved in repairing cars and other vehicles, it can be easy to inadvertently damage important business property.
That's why it's so important to have business property or tool insurance, which can help to protect your valuable assets in case an accident happens.
With business property insurance, you'll not only be covered for any damage that occurs as a result of accidents and natural disasters, but also for theft, vandalism, and other unforeseen events.
Having this type of protection gives you peace of mind knowing that your investment in your equipment will be protected at all times.
So if you want to make sure that your investment in your business property is well-protected, then it's worth investing in either business property or tool insurance.