Errors and Omissions Insurance for Notary Business Professionals
Last Updated on November 29, 2022
A notary is a public official who is authorized to perform various official functions, such as certifying the identity of parties and executing legal documents. One of the most important roles that a notary plays is verifying signatures and ensuring that the contents of documents are accurate. This is particularly important in cases where great sums of money or property are at stake.
Additionally, notary professionals are responsible for many record-keeping duties, such as maintaining copies of official documents and signatures. They have become a staple in legal systems that they are even required to purchase a notary surety bond to protect the public in their work.
With this, one can imagine that being a notary comes with several risks. Beyond intentional misconduct covered under a notary bond, there is always the risk of unintentional notary errors and omissions as well as compromised data that are always potential mishaps waiting to happen in having to rush through notarizations and handling an important document and sensitive information, respectively, which are more common than one would think.
To protect themselves from those risks, notaries need insurance protection. It can help to provide security from financial harm stemming from errors and omissions. With liability insurance, an notary can have protection against mistakes and errors that could be costly. And for that reason, every notary should invest in this valuable form of protection.
This is why, today, we will be discussing everything you need to know about E&O insurance for notary professionals.
What is errors and omissions insurance for notaries?
While a notary bond protects the public, E&O insurance is coverage that shields against financial harm if they make a mistake during one of their notarizations. This type of insurance can be invaluable for business professionals who want to protect themselves from liability and coverage for resulting legal fees such as court costs and investigation expenses, as it will help to pay for any payouts associated with a mistake or omission.
E&O insurance protects notaries from liability should they make any errors in the course of their work, and also provides customers with peace of mind knowing that their notary is backed by a safety net. In other words, beyond notary bonds that guarantee that a notary will ethically and legally perform his/her tasks, notary E&O insurance sees to it that they can address service-related claims should the need arise.
Whether you are just starting out, have many years of experience, a traditional notary, or remote online notary, securing an E&O insurance policy is always a smart move.
What does notaries' errors and omissions insurance cover?
E and O is a key component of any notary's toolkit besides his/her surety bonds. It covers claims that may arise from notary errors and omissions. For example, if you sign a document as an impartial witness when you were actually involved in shaping its contents, this could lead to a claim for financial or professional damages. In this case, being insured means your insurance pays for court costs and other relevant fees, protecting you from financial loss.
Another common source of claims is fraud. If a notary secures someone's signature under false pretenses and then uses that signature for their own financial benefit, they may be subject to legal action. As such, E and O is essential for protecting notaries against costly legal fees.
Not only is it crucial to be conscious of the different circumstances that could lead to a lawsuit, but doing so can also help stop them from happening altogether. Knowing how to handle different situations can help keep you safe while providing high-quality services to your clients.
In short, e and o coverage protects notaries by covering the costs of defending themselves against lawsuits, as well as any damages that may be awarded if they lose the case. It is therefore a must-have policy for anyone working in the notary industry.
How much does notaries' E & O cost?
When calculating the cost of an errors and omissions (E & O) insurance policy for a notary, several elements must be taken into account. These may include an individual notary's level of experience, the specific services they provide, and the geographical area in which they operate. In general, however, E and O premiums typically range from $125 to several thousand dollars per year, depending on these and other factors.
There are a few scenarios in which a notary might pay a higher premium for their insurance. For example, if they work in an industry with particularly high-risk factors compared to others–such as immigration law or real estate–this can increase the cost of coverage.
Some states have different requirements for notaries in certain professions when it comes to comprehensive policies. Also, some states require that a notary has higher coverage limits than what is required in other states.
Ultimately, choosing to purchase coverage is an important decision that should be carefully weighed with these various factors in mind.
How can I get the best E&O insurance for notaries?
There are a few steps that notaries can take to ensure they have the best E and O coverage possible.
First, it is important to thoroughly research and compare different e and o insurance companies to find one that offers the most comprehensive coverage at an affordable price. This may involve requesting quotes or speaking with representatives from various insurers.
It is also crucial to carefully review the policy's terms and conditions, as well as any exclusions or limitations on coverage, before purchasing it. Furthermore, check policies often to make sure they align with your changing needs and update them as needed.
Finally, stay up-to-date on industry developments and laws related to e & o insurance in their state, as these can potentially impact their coverage and the cost of their policy.
Overall, taking the time to carefully evaluate different options and staying informed about errors and omissions requirements can help a notary secure the best coverage possible.
Top E&O Insurers for Notaries
Below is a list of outstanding providers for notary insurance. You should now have an understanding of what the policy covers, how much it may cost, and what's required to select a provider.
Hiscox

For professionals in need of business insurance, Hiscox is a top provider. With years of experience working with thousands of different professions, they possess considerable expertise and knowledge in the field. Moreover, they have partnered with multiple brokers across the country, allowing customers to access their services via phone or mail with ease.
And because customer satisfaction is always a top priority at Hiscox, they are committed to providing the highest level of service and support. Whether you are a notary or another type of professional in need of liability insurance, Hiscox is an ideal choice for getting reliable coverage quickly and easily. Thanks to their competitive pricing and multiple plan options, you can get the protection that you need without breaking the bank. So what are you waiting for? Read our Hiscox business insurance review today!
NEXT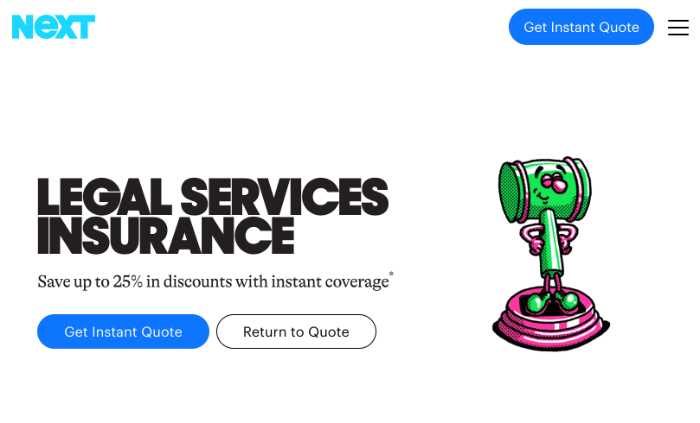 NEXT insurance is the go-to solution for anyone looking for comprehensive and affordable coverage for their professional work. With over 1,300 different professions covered, including legal services, NEXT has the expertise and experience to ensure that each client receives a policy customized to meet their exact needs. Whether you're looking for basic coverage or a comprehensive plan, NEXT has everything you need.
And what's more, NEXT makes it easy to get covered. Their convenient mobile app ensures that you can easily access your policy information on the go, while their online quote engine gives you instant quotes at any time. Plus, with policies starting at just $128 per year, NEXT provides incredible value alongside top-notch customer service and support. So if you want peace of mind when it comes to protecting your professional work, look no further than this NEXT insurance review!
InsuranceBee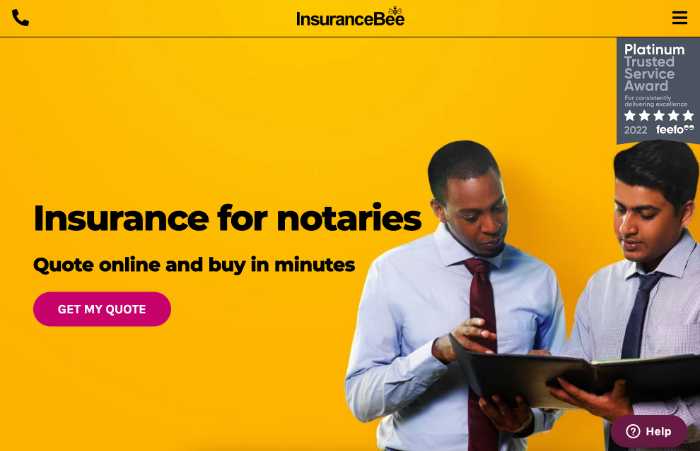 InsuranceBee is a leading provider of professional liability insurance for a wide range of independent firms and professionals. With coverage starting at only $22.50 per month, it is clear that they understand the unique needs of smaller organizations, while still providing the protection and customer service that you would expect from any top-tier insurer.
And with easy access via both email and phone, consultation is always readily available whenever you need it. Whatever your needs may be, check out this InsuranceBee review and learn more about the expertise and resources to get you the coverage that you deserve.
SimplyBusiness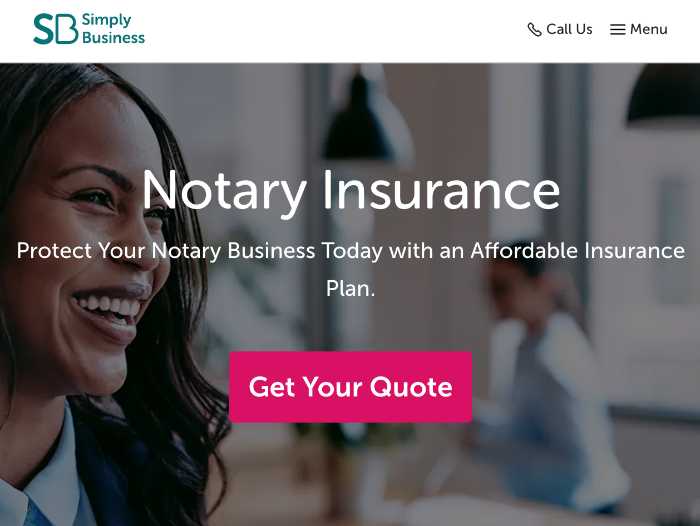 SimplyBusiness believes that everyone deserves affordable and accessible insurance. That's why they offer a wide range of coverage options to suit the unique needs of businesses across all industries. Whether you're running a small shop or an established corporation, SimplyBusiness has the products and services to keep you protected at all times.
One of their most popular offerings is professional liability insurance for notaries. This coverage protects against financial damages if they make a mistake or omission while fulfilling their duties. SimplyBusiness partners with leading providers to bring you competitive rates on this essential coverage and makes it easy to compare prices and find the best deal for your needs.
biBERK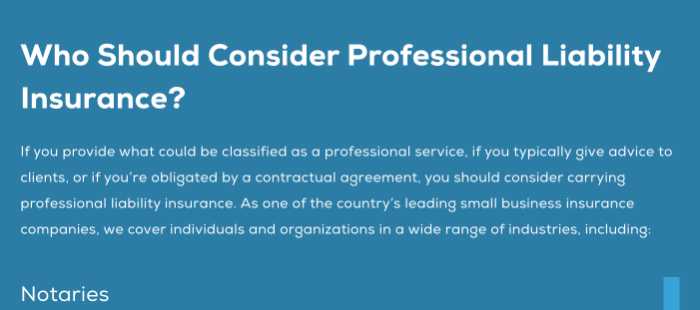 biBERK is committed to providing affordable and reliable coverage for small businesses. As a direct policy provider, they work directly with clients to ensure that all state laws are met and that their specific business needs are addressed.
Whether it's ensuring the proper levels of liability coverage or addressing concerns about workers' compensation, they have the knowledge and expertise to provide quality insurance coverage tailored specifically to their client's unique needs. Being part of the Berkshire Hathaway group, their rates are already super affordable, but they're even cheaper thanks to an affiliation with a larger network.
The Bottom Line
Errors and omissions insurance for notary professionals shields you from potential legal action if they make an error while performing their duties.
When price shopping, be aware of the different policy options available. Some policies offer broad coverage, while others are more specific. Notary publics should also make sure that the insurance company they choose is reputable and has a good track record.
To conclude, E&O insurance for notary agents is an important business protection. By choosing the right policy and insurer, notaries can feel confident that they are well-protected in the event of an error.
Thank you for reading! We hope you found this information helpful and that you will be wise in your decision to purchase errors and omissions coverage.