With the boom of e-commerce transactions given social distancing protocols in the COVID-19 pandemic and the evolution of marketing strategies in the age of social media, shipping and delivery truck drivers are in high demand.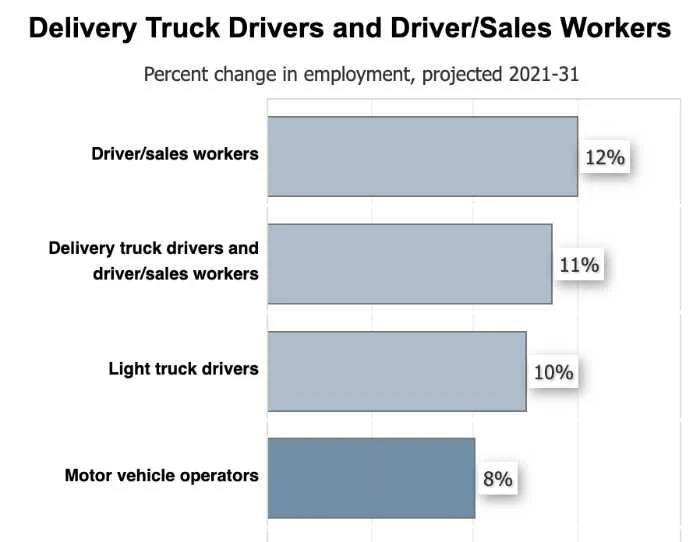 Source: U.S. Bureau of Labor Statistics, Employment Projections program
In fact, the truck driving industry is projected to increase by 11% in the next decade according to the U.S. Bureau of Labor Statistics. However, the increase in these job opportunities may also come with an increased risk of accidents on the road.
With this, commercial trucking insurance or commercial truck insurance is crucial for protecting not only the driver of the commercial truck and their vehicle but also any potential damage to third parties involved in a collision.
Without proper coverage, a company may face hefty legal fees and other expenses if they are found liable for an accident involving their commercial truck drivers or a commercial truck they own.
Don't let one accident take its toll on your business. With this article, learn everything you need to know and how to purchase commercial truck insurance.
Commercial Truck Insurance for Protecting Companies and Their Drivers
A commercial truck on the road faces numerous risks daily. These risks can come from a variety of sources, including traffic collisions, inclement weather conditions, and equipment failure.
To prevent these kinds of accidents from occurring, many commercial trucking companies have adopted comprehensive safety measures that include mandatory breaks for drivers as well as training programs to keep them alert and aware at all times.
As a result, while there are certain risks inherent to operating a commercial truck, steps are continually being taken to minimize them and make our roads safer for everyone.
Besides prevention, another means to safeguard trucking businesses is getting a commercial truck insurance policy. After all, even well-maintained trucks and expert drivers can still experience accidents or other mishaps.
Take note that commercial truck insurance is not a specific type of insurance, but a policy bundle that provides coverage for various kinds of incidents common to operating a commercial truck, including property damage and bodily injuries.
Particularly, a form of truck insurance or coverage you may look into is commercial auto insurance which can provide coverage for damage to vehicles, as well as any injuries or property damage resulting from a collision with your commercial truck. It can also cover the cost of lawsuits and legal fees if the company or driver is found at fault for an accident.
What Does Commercial Truck Insurance Cover?
A commercial truck insurance policy is designed to cover a wide range of risks faced by trucking companies and their commercial truck drivers.
At its core, this type of coverage protects against damage to vehicles and property, as well as liability if an accident causes injury or loss.
As opposed to personal auto insurance, this coverage is essential for businesses that rely on commercial vehicles to make their deliveries, store their goods, or transport passengers.
Specifically, auto insurance can provide coverage for a variety of situations, including:
Damage to company-owned trucks and all vehicles covered
Injuries or property damage resulting from an accident
Cost of lawsuits and legal fees if the company or driver is found at fault
Rental car expenses if the insured vehicle is being repaired
Medical expenses for the driver or any passengers involved in an accident
Uninsured/underinsured motorist coverage
It's important to note that not all commercial auto insurance policies are created equal, and coverage may vary depending on the provider.
It's crucial to carefully review your commercial trucking insurance policy and discuss any questions or concerns with your insurance agent to ensure that you have the necessary coverage for your specific needs.
With commercial auto coverage in place, trucking companies and their drivers can protect themselves from costly claims and potential litigation, while also ensuring that they are protected even in the event of an unforeseen accident or emergency.
Ultimately, having the right kind of coverage is critical for anyone who relies on commercial vehicle operation for their livelihood.
How Can I Obtain Commercial Truck Insurance?
There are numerous providers and it's important to shop around for the best policy at the most competitive rates. Some top providers for commercial truck insurance are listed in the following sections.
It's also a good idea to work with an experienced insurance agent who can guide you through the process and help you determine the most appropriate commercial truck insurance for your business's needs.
By investing in commercial truck insurance, trucking companies can safeguard their vehicles, drivers, and overall business from potential risks on the road.
In an industry where accidents and unexpected events can have significant financial consequences, having this type of coverage is a smart investment for any commercial trucking company.
How Much Does Commercial Truck Insurance Cost?
As mentioned, trucking is an essential part of modern commerce, but running a trucking business also comes with many financial risks. One of the biggest costs that owner-operators must contend with is commercial truck insurance.
The cost of commercial truck insurance can vary significantly depending on several different factors. For example, the amount and type of coverage required by an individual trucking company will have an impact on premiums.
Additionally, more experienced drivers tend to be associated with fewer accidents and thus command lower premiums. Nonetheless, the average trucking company will pay several hundred dollars per year given the risks associated with their operations.
Ultimately, anyone who owns or operates a commercial trucking business should review their insurance needs carefully to find the most cost-effective solution possible and shop around for commercial truck policies and get a truck insurance quote from each of them.
Top Commercial Truck Insurance Companies
With all the knowledge you now have, we can now compare the best providers of comprehensive coverage below.
Hiscox

Hiscox provides a myriad of insurance options to give customized coverage for nearly any profession. Given that Hiscox started in 1901, they offer some of the best commercial truck insurance policies thanks to their extensive experience.
However, if you are looking for affordable insurance, you may want to consider the other options for insurance companies as Hiscox's premiums tend to be on the higher side because of their business size.
Conversely, if you are an established business willing to spend a few extra bucks on your policy, you could go with Hiscox for its excellent customer service and accessibility. Hiscox has offices across the United States.
To give you an idea of how much commercial truck insurance and general insurance costs from top to bottom Hiscox review, a general liability policy from this insurance company starts at just $30.
NEXT
Next, we have NEXT (pun intended). NEXT is a newer insurance company, but it's already making waves with its unique policies and accessibility. If you're looking for commercial truck insurance that won't break the bank, NEXT should be at the top of your list – especially if you're an owner-operator.
This is because of their many coverage offerings, very competitive pricing starting at as low as $11 monthly, and their easy-to-use mobile app, especially for those who need commercial trucking insurance on the go.
They have truck insurance no matter the size of your business as they have industry-tailored packages that go from Basic to Pro depending on your needed coverage limits and provide hired & non-owned auto insurance.
Unlike commercial auto insurance which makes more sense for owner-operators, for instance, hired & non-owned auto insurance covers vehicles that are not owned or leased by a business but still used for business purposes.
biBERK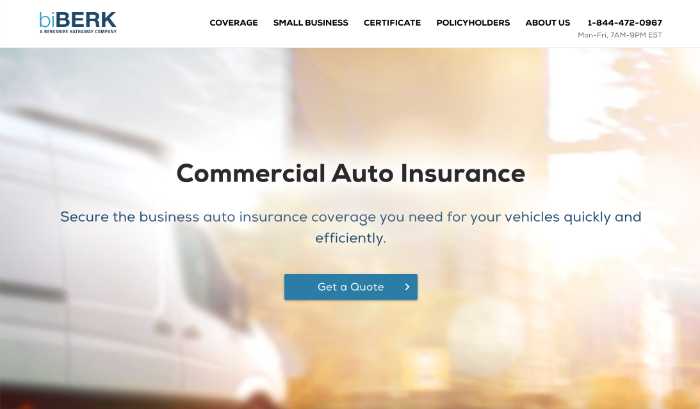 biBERK could also be a good option for securing truck insurance because they are a direct insurance provider under the Berkshire Hathaway Group.
Focused on simplicity, they help businesses stay compliant with state laws, and run their operations, all while having their commercial truck insurance work for them as a safety net.
As a direct insurance provider, biBERK can save you up to 20% on your premiums. Only make an informed decision after reading this biBerk insurance review right now.
THREE
THREE is another Berkshire Hathaway Company that offers truck insurance that you could bundle with many other usual policies, even non-trucking liability coverage.
If you are someone that values simplicity and would like to get your coverage from one direct provider, THREE is the insurance company for you. Our Three vs biBerk vs Next review can help you make the right business decision.
SimplyBusiness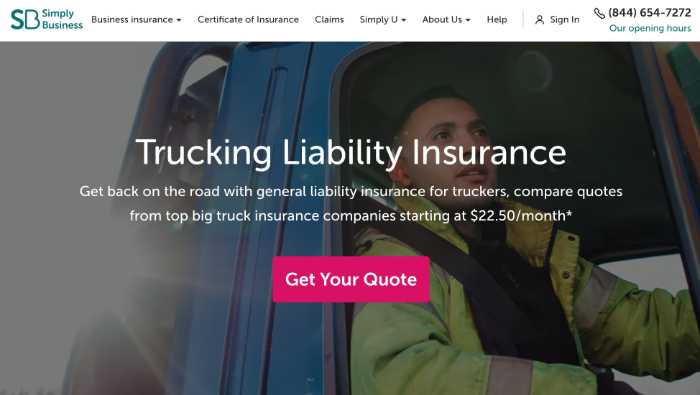 SimplyBusiness specifically offers trucking liability insurance or truck insurance in the form of general liability insurance because they do not offer commercial auto.
Truck insurance from SimplyBusiness starts at $22.50 a month and the company allows you to compare quotes from their multiple insurers to make sure that you are getting the best commercial truck insurance that you need.
Embroker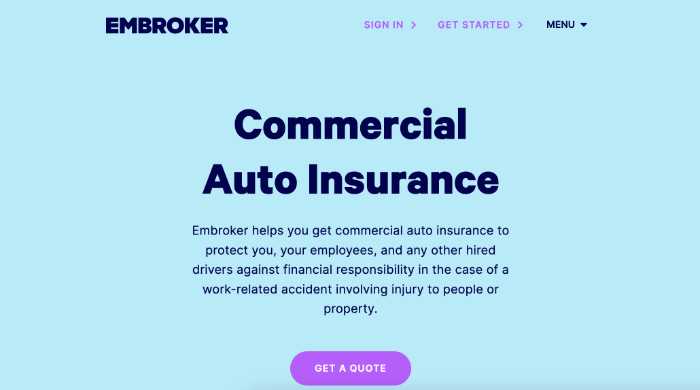 Lastly, Embroker is another insurance broker that could offer the best truck insurance for starting businesses. This is because they offer startup packages to help you begin your insurance journey and protect your commercial trucks.
Embroker offers a live chat feature for easy customer service and client support.
Conclusions
As anyone who has ever worked in the trucking industry knows, commercial trucks require special care and attention. Not only do these large vehicles pose unique challenges when it comes to driving and maintenance, but they also present a significant risk of damage and injury if something goes wrong.
Due to this heightened level of risk, truck drivers and owners need to have commercial truck insurance. This type of insurance helps protect against liability if an accident occurs, giving drivers and owners the peace of mind needed to do their jobs safely.
Furthermore, commercial truck insurance can cover a wide range of damages, including repair costs for the vehicle itself as well as medical costs for injured parties.
Every year, many companies without truck insurance go bankrupt from crushing financial losses. It is abundantly clear that commercial truck insurance is a requirement for anyone in the trucking industry. Get insured now!