biBERK Insurance Review [2023]: Is It A Smart Business Move?
Last Updated on April 23, 2023
Owning a small business means that you have a lot of independence and control over your enterprise. One of the best things about it is that you get to see your passion and creativity in action, but, as your own boss, you also bear the responsibility of reducing your risks and thinking ahead. For many owners, getting insurance is among the best ways to do just this.
Unfortunately, with so many options and providers out there, the process of getting insured could be overwhelming, confusing, and even intimidating. As a small business owner, you may consider biBerk services for your protection. In this biBERK review, we will be guiding you in deciding whether or not this is a smart business move for you to make.
Table of Contents
What's biBerk Insurance?
Coverage
Availability
Cost
Claims
biBerk Alternatives
FAQs
What's biBerk Insurance for Small Business?
biBERK was born in 2015 to prevent small business owners from being overcharged, confused, and uninformed. They are a company supported by the financial strength of Warren Buffet's Berkshire Hathaway Insurance Group, a direct provider, and that helps growing businesses make sure they stay compliant with state laws at competitive rates.
biBERK is made easier and more manageable with instant and free quotes to review, policy purchasing online, and earnest customer service.
Risks Small Businesses Could Avoid by Getting Insured
One in four businesses is unable to recover from a major event according to the Wall Street Journal. When it comes to major events, our minds easily go to disasters such as a fire or floods or large-scale impacts such as a recession. Although indemnity coverage may protect your business from the risks mentioned above, there are more potential sources of danger that need to be taken into account.
For instance, small business owners run the risk of customers and clients having a bad experience whether that's getting physically injured within commercial property, being unsatisfied by provided products and services, or experiencing losses from advice or reputational harm from advertising. These could lead to costly trips to the doctor, lost income, or worse–a lawsuit.
Thankfully, there are multiple types of coverage to suit different business types and cover such risks. This is why certain coverages are required in some states and are checked by the people who are considering your services.
Small business owners should take the time to review their current coverage regularly and assess whether any changes or additions are necessary to mitigate new risks as they arise. A yearly review of your policy is essential to ensure your coverage is up to date and you're not paying for things you don't need or leaving yourself exposed to uncovered risks.
Insurance Coverage Selections from biBERK
biBERK acknowledges these risks and accordingly offers the following types of policies:
Workers' Compensation Insurance: Shortened as workers comp, this coverage is required in most states and even for businesses who only employ one worker because it insures employees for work-related injuries, sickness, or even death. As such, it also protects you, the owner, from fines and penalties and having to pay for your employees' medical expenses out of pocket.
Professional Liability Insurance: This protects businesses that provide expert services from any damages and resulting legal costs that might come up.
Errors and Omissions Insurance: Should a customer claim that you made a mistake or failed to do something in your work, errors and omissions (E&O) will protect you regardless if the claim is actual or alleged.
General Liability Insurance: General liability from biBERK is extensive and will cover the costs of property damage, bodily injury, product liability, libel, slander, and copyright infringement for small businesses.
Business Owner's Policy: Otherwise known as property and liability insurance, business owners policy (BOP) combines general liability and commercial property to settle the costs of the risks mentioned above and protect assets such as your physical location, equipment and inventory, and net income.
Commercial Auto Insurance: Commercial auto protects vehicles used for business purposes. It also provides payments for legal defense and medical treatment for bodily injury and uninsured motorists, collisions and property damage, and physical damage resulting from other hazards such as theft and vandalism.
Umbrella Insurance: Umbrella coverage provides additional protection for when your existing policy's limit has been reached, thereby safeguarding your business and assets from any potential financial risks.
Cyber Insurance: This is add-on coverage that deals with system hacks, data security breaches, and credit card fraud.
biBERK Small Business Insurance Availability
As of this biBERK small business insurance review writing, policies are available across the United States, but some indemnity solutions are limited to certain states. To learn more about the availability of a specific type of coverage, you may head onto their website to see their maps.
For instance, their workers' compensation insurance is only available in the states filled in below. As such, they do not provide workers comp in four states: Washington, Wyoming, North Dakota, and Ohio.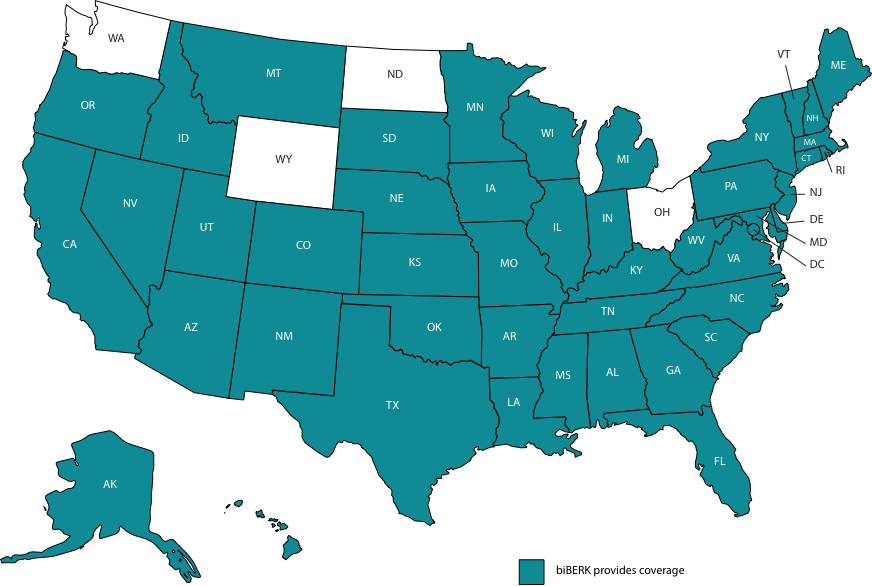 Photo Credit: bIBERK
They also make it easier for you by allowing you to select your state and easily explore which options are available in your area. Only professional liability and E & O insurance are served in all 50 states.
How to Get a Quote from biBERK Insurance
This company prides itself on having experts with whom you may speak by calling 1-877-797-0387 from 7AM-9PM on weekdays.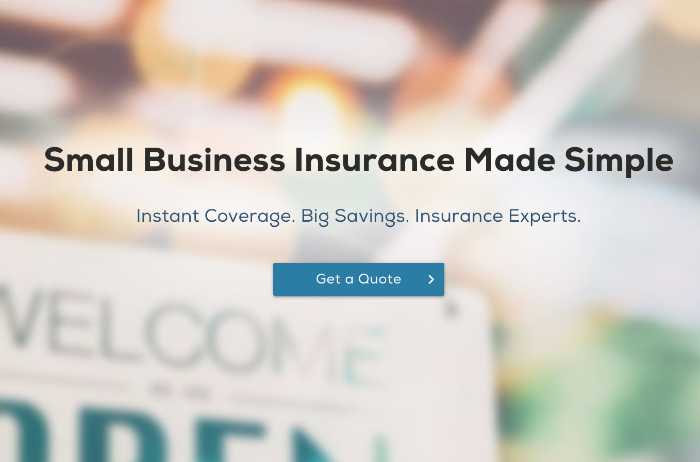 You may also get a quote from their website by simply clicking "Get a Quote" on the biBerk landing page and answering a few questions relating to your business type, location, employees, and more. Upon finishing this questionnaire, you will get a quote and up to 20% off your insurance policy.
Benefits of Umbrella Coverage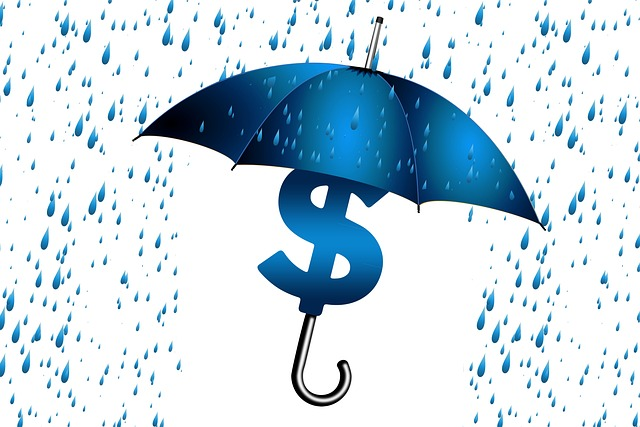 Umbrella insurance is a unique type of coverage offered by biBERK. It is especially helpful for small businesses that may not have enough funds to cover expensive claims.
This coverage essentially extends the limits of your policy. If you are paying for the medical expenses following bodily injury to a customer and it goes beyond your policy that maxed out at $500,000, umbrella coverage can shield you from the rest of the costs falling outside your general liability.
If you're unsure about whether umbrella coverage is right for you, read biBerk reviews of those who have purchased the policy to see how it has protected their business.
However, it must be noted that this policy has exclusions including intentional damage, damage to your property, contractual liability, and liability associated with war.
The Cost of biBERK Small Business Insurance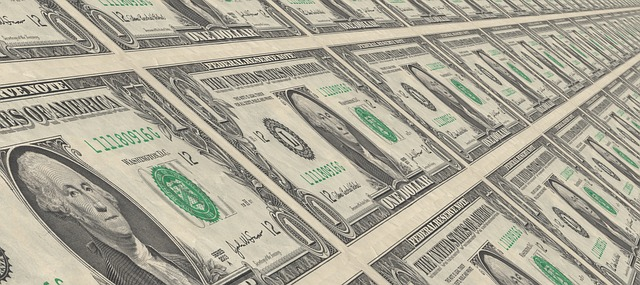 As a Berkshire Hathaway Insurance Company, biBERK provides you with commercial insurance policies directly without a broker and can save you up to 20% on your policy. Policies start at $500 per year.
However, the actual cost of your premiums will depend on the factors asked when obtaining a quote from them, such as your business type, size, activities, and number of employees. It also depends on your state as different states may have varying degrees of policy requirements.
What Have Customers Said?
Testimonials for biBERK

Many positive customer reviews have lauded their customer service team for excellent communication. This customer's request, in particular, was settled by a customer service representative who talked with him over the phone.

On the other hand, the client above was satisfied with a particular representative and immediate COI issuance despite having to wait after talking to a different agent beforehand.
Comments from Unhappy Clients
As mentioned, agents from biBERK are very happy to serve their clients and even potential customers but this reviewer was unhappy about being persuaded to buy biBerk business insurance she did not need. After careful review, she is also unhappy with the hidden charges that come with canceling your policy.
This customer, on the other hand, is looking for the option to cancel his policy online instead of having to call a biBERK representative. For many, having to wait to get on the phone with a biBERK representative is a downside to getting insured by them.
How to Claim with biBERK
In order to file a claim with the provider, you can call a representative by dialing 1-844-472-0966 or email claims@biberk.com.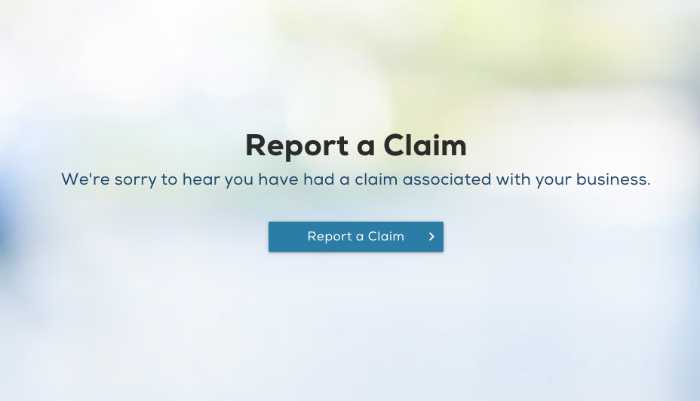 However, as you can with getting a quote, you may also report a claim online by going to their website, declaring your coverage, and providing details about your claim. A representative will then get in touch with you.
Alternative Insurance Providers You May Consider
After the customer reviews shared above, we could help you further in deciding if biBERK is the right provider for you by discussing some alternatives and how the company compares to these.
What is Simply Business?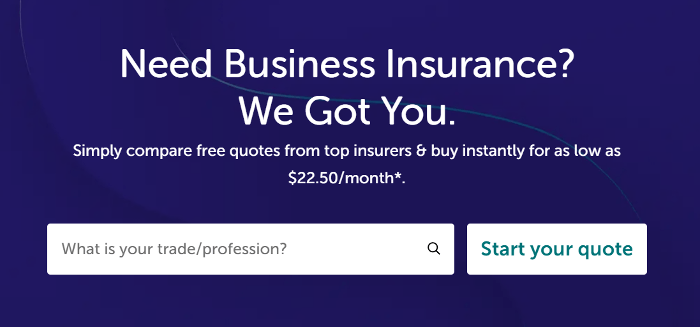 Simply Business is a fully-online broker that specializes in protecting small and starting businesses. They combine artificial intelligence, knowledge, and data to offer fast, free, and affordable quotes. Established in 2015, they have worked with over 800,000 small businesses and landlords.
Among their insurance coverages are public liability, professional indemnity, tool insurance, and more. Learn more by reading our Simply Business Insurance Review.
Simply Business Insurance vs. biBERK
As mentioned, Simply Business is an insurance brokerage whereas biBERK is a direct provider. Brokers are usually paid a commission for every plan they sell, which means that their premiums might cost more than direct insurers.
They also leverage machine learning to attend to customer queries more quickly, although they too have small business insurance experts you could call for advice and great customer service. biBERK, in contrast, has been known to personally call interested business owners and professionals to get them started.
What is THREE Business?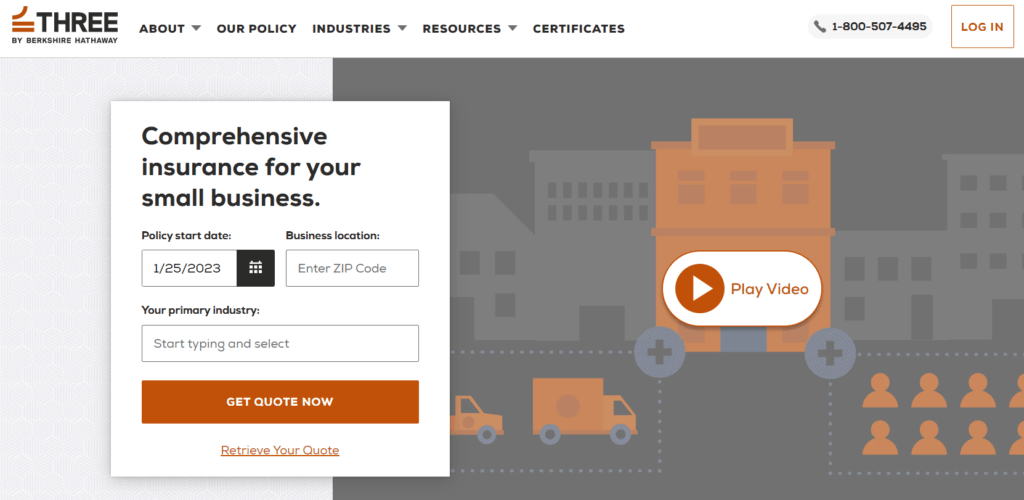 THREE is a newer Berkshire Hathaway Direct Insurance Company established in 2019. As does biBERK, they offer simplified policies that are cost-effective for small businesses. This coverage is so simple that it is condensed into one policy solution. Read more about this single and seamless policy in our THREE Small Business Insurance Review.
THREE Business Insurance vs. biBERK
Then, you may be curious: what's the difference between THREE and biBERK? Which of the two should I choose for my small business?
Well, if you would like to customize your policy, it would be advisable to review biBERK as they offer an array of business insurance coverages discussed above. "The Policy" offered by THREE is designed to provide broad coverage for common risks faced by most small businesses. Their idea is to make obtaining a policy modern and prevent overlapping insurances.
What is InsuranceBee?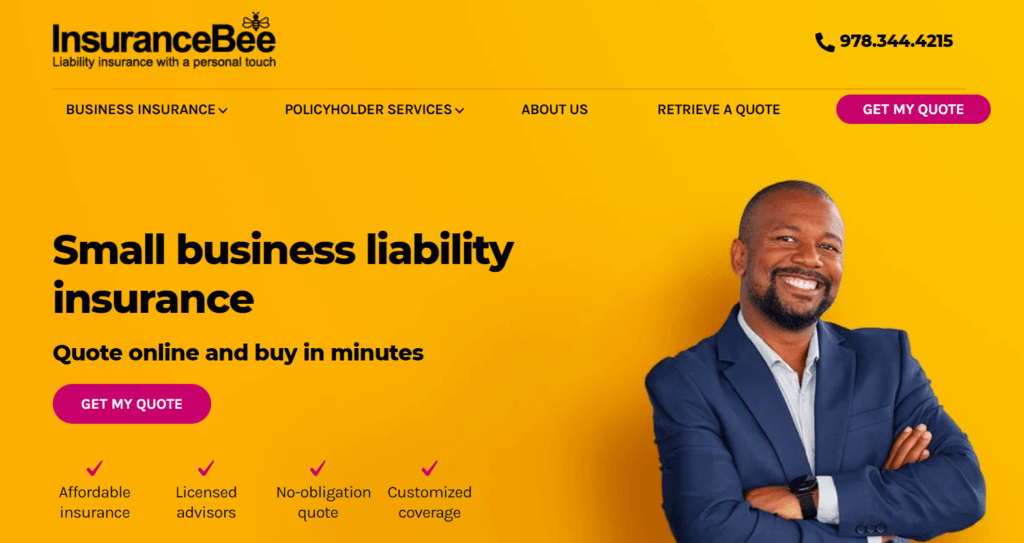 Started in 2010, InsuranceBee is a specialty small business insurance provider with a focus on consulting firms and freelance professionals. They provide liability protection solutions for a wide range of small businesses from accountants, consultants, cleaners, and even insurance agents. Discover the benefits of InsuranceBee by reading our review.
InsuranceBee vs. biBERK
Because InsuranceBee focuses on independent consultants, consulting firms, and freelancers, they focus on professional liability insurance (E & O) as discussed above. If you are a professional, you may want to review and get insured by InsuranceBee as they tend to have a greater understanding of your needs.
However, if you run a physical store, employ service workers, need commercial auto insurance, and/or have commercial property such as equipment and inventory, biBERK would be able to give you the adequate coverage needed for your small business operations.
The Bottom Line
Your growing business needs insurance for both financial and reputational protection and a direct insurance company such as biBERK offer you expert services, customizable policies, and savings on your premiums.
However, it is still important to shop around for other companies and read other small business insurance reviews such as this one to help you understand what coverage is suitable and necessary for your needs.
FAQs about biBERK
Is biBERK Insurance legit?
biBERK has been accredited by the Better Business Bureau since 2017. Their policies are also underwritten by companies that are rated A++ by AM Best.