There are several reasons for the recent boom in the commercial van industry. First, technological advances have made vans more fuel-efficient and reliable, making them a desirable option for businesses trying to cut down on transportation costs.
In addition, vehicle designs have become much more streamlined over the years, with manufacturers focusing on improving cargo space while minimizing the size of the vehicle.
Finally, there has been a rapid expansion in e-commerce and last-mile delivery services, which rely heavily on commercial vans to ship products quickly and efficiently. Overall, these trends show that the industry in question is poised for continued growth in the years ahead.
Business Risk Reduction Pillar
While owning a van is a worthwhile investment, it also comes with its own set of risks and liabilities. This is where having small business insurance comes in handy.
Specifically, commercial van insurance provides the best protection against a variety of potential hazards, from accidents and property damage to theft and legal liability.
A good policy can help to minimize the financial impact of these risks, allowing you to focus on growing your business without worrying about the safety and security of your commercial vehicles.
Whether you're driving across town or the country, having a good policy can give you peace of mind and help to protect the things that matter most.
In this article, we'll discuss the importance of protection for your vans and how to choose the right commercial van insurance policy for your needs.
Commercial Auto Insurance for Vans
First, it's important to understand commercial auto insurance and how it differs from personal auto. Generally speaking, commercial auto provides a cover for vehicles that are used for business purposes, whereas personal auto covers vehicles primarily used for personal, noncommercial reasons.
Commercial van insurance, although not a specific type of policy, typically will provide bodily injury coverage and property damage caused by the insured vehicle, as well as physical damage protection to protect the van in case of accidents, theft, or vandalism. It may also include coverage for medical expenses and uninsured motorists.
Additionally, some policies cover lost or stolen items stored in your vehicle. Overall, investing in good policy is a crucial way to help protect your business and ensure that you can mitigate any financial losses that may come from unexpected events.
So if you are looking to get adequate protection for your vans, be sure to explore all of the options available and choose the commercial van insurance coverage that best fits your needs.
What Is Covered Under Commercial Van Insurance?
At its most basic, this type of coverage protects from all the risks associated with operating a business vehicle. This includes damage to the vehicle, as well as liability for any injuries or damage to a third party's property that may occur while you are driving. In addition, it is designed to cover both driver and passenger medical costs in the event of an accident.
Beyond these basics, however, commercial van insurance offers a range of additional coverage options to suit different needs. For example, if you frequently travel long distances because you transport heavy loads in your cargo van, additional roadside assistance would likely be beneficial to you so that you can get back on the road quickly in case of an accident or any other incident.
Business interruption is also a concern for mobile businesses that use cargo vans for their activities, such as pet grooming services and mobile barber shops.
Similarly, drivers who are working with fragile or hazardous materials will want to check for added protection in case of contamination or spillage. This may be useful for refrigerated vans or temperature-controlled vans and tipper vans used by material suppliers.
Lastly, passenger vans or crew vans and minibuses should look into a general liability insurance policy for their passengers and additional coverage for any equipment they may have onboard.
Whether you need comprehensive coverage or just the essentials, a good commercial van insurance policy can give you peace of mind and keep your business moving forward no matter what challenges come your way.
The specific details of what is covered under a commercial auto insurance policy will vary depending on the provider and the package chosen.
To sum it up, the usual type of coverage bought as part of commercial vehicle insurance, commercial auto covers:
Liability coverage for bodily injury and property damage coverage caused by the insured vehicle. This is especially important to note for tippers and other large vans that are more difficult to operate and can cause large expenses for settlements and other expenses for harm to third parties.
Physical damage coverage for accidents. Collisions, theft, and vandalism are all common risks for business vehicles. As such, it is also important to have coverage to protect your own vehicles.
Coverage for specialized equipment and cargo. Freight vans and delivery vans often have expensive inventory or equipment stored inside, so it is crucially important for protecting those assets.
Uninsured or underinsured motorist coverage. This can protect in case of accidents involving other drivers who do not have adequate coverage.
How Can You Commercial Van Insurance for Your Business?
If you own or operate a company that uses vans for business purposes, it's important to have the appropriate coverage in place.
Insurance for vans that includes usual types of liability coverage such as commercial auto can typically be obtained through a broker or directly from a provider.
It's important to shop around and compare multiple quotes to ensure that you're getting the best coverage at the most competitive price.
It's also important to regularly review and update your commercial van insurance coverage, as your business and its needs may change over time.
Additional coverage options such as cargo or specialized equipment coverage may become necessary as your business expands and takes on new tasks and responsibilities.
How Much Does A Commercial Auto Insurance Policy Cost?
Among the top FAQs regarding this type of coverage is its cost. The cost of a policy varies widely depending on several different factors.
Some of the most important pricing factors include the age and condition of the vehicle, gross vehicle weight, as well as the operator's driving record, and the type and amount of coverage being purchased. These factors all help to determine how at risk a particular vehicle might be, which can impact the final cost of a commercial auto insurance policy.
Typically, older vans or those with higher mileage will tend to be more expensive to insure, while newer and lower-mileage vans will typically be cheaper. Furthermore, high-risk businesses such as mobile services and special freight will also see higher costs than low-risk businesses such as dry van drivers.
Finally, the level of coverage purchased can also have a big impact on the price; for example, opting for full coverage vs. liability insurance could increase your costs significantly.
In short, many different things can contribute to the level of cost associated with policies, making it crucial to take these factors into account when looking for reliable coverage at a reasonable price.
Top Providers of Commercial Van Insurance
Now that we can take a look at the top providers of protection for vans, we could narrow them down by considering those who offer commercial auto insurance at the best price and provide top-notch service. Here's our best-of-the-best list…
NEXT
NEXT offers small business policies for over 1,300 professions. As such, they have a wide range of coverage options including commercial auto, hired & non-owned business auto, and other types of liability insurance coverage you may want to include for your business auto insurance.
They also offer competitive prices for auto coverage as they are among the most affordable you could find, with an easy-to-use mobile app for managing and updating your policy wherever you are.
SimplyBusiness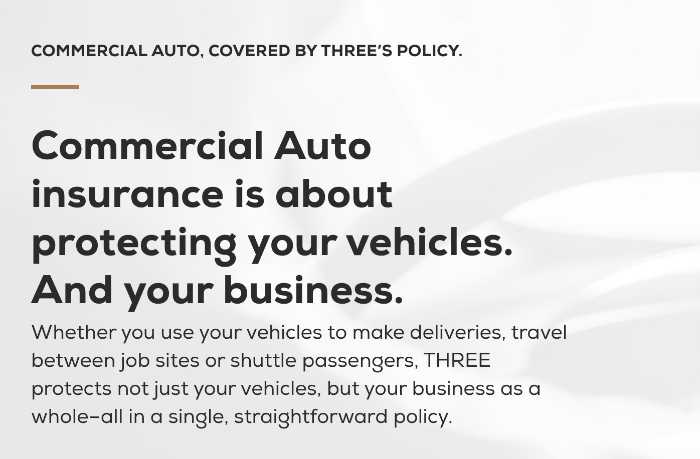 Another provider of business van insurance is SimplyBusiness which offers company van insurance in the form of general liability. This is because they do not offer commercial auto insurance so your coverage will have to fall under your general liability policy.
This policy starts at $22.50 a month and is offered by multiple insurers partnered with SimplyBusiness. SimplyBusiness offers a great selection of cargo van insurance coverage options for businesses.
Hiscox
As an industry leader, Hiscox offers commercial auto insurance as part of its tailored coverage for the thousands of professions and trades they cover. Whether you have one cargo van or an entire fleet of commercial vans, it's crucial to have comprehensive coverage. Plus, many customers require commercial van insurance to earn their business.
Hiscox is among the most accessible providers in this list because of the size of their company given that they have been in business for over 100 years.
They have offices across the United States and are reachable via phone or mail for you to discuss policy options.
Embroker
Whether you're just getting started or you're looking for a policy that caters to rapidly expanding businesses, Embroker has got you covered. Whether you operate a cargo van, delivery van, mini van, courier van, or some other logistics service vehicle, get business van insurance coverage.
With their personalized services and user-friendly online platform, this team makes developing a comprehensive policy easy and intuitive. And their fast turnaround times mean that no matter how quickly requirements change for your business, you'll always stay protected. Side by side comparison of Embroker vs SimplyBusiness vs Huckleberry details pros and cons of each provider.
biBERK

biBERK is a digital insurance company that offers business auto insurance with customizable coverage options, competitive rates, and easy online management with access through email or phone.
They also offer other forms of liability insurance such as general liability, professional liability, and even umbrella coverage for your van business needs.
You can purchase a commercial auto policy from biBERK and save up to 20% on your premium because they are a direct provider under the Berkshire Hathaway Group.
THREE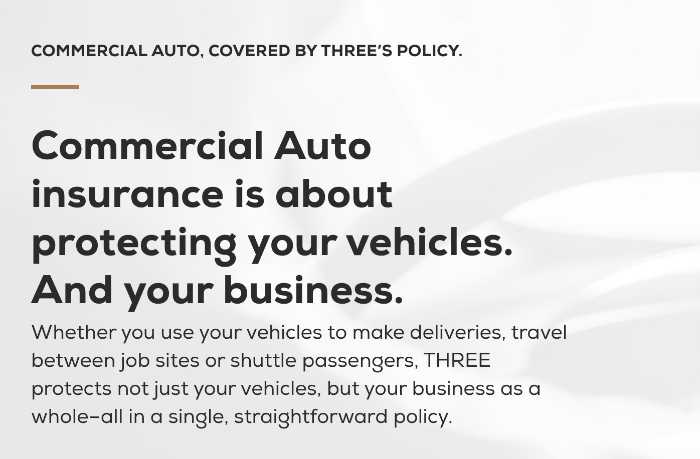 THREE is a unique provider of liability coverage because they bundle all the usual types in one policy. This includes commercial auto insurance and other forms of protection for all the risks you could encounter as a business. Find our in-depth THREE insurance review here.
They include a commercial auto policy in this document that you could easily customize to your liking. Like biBERK, they were also developed by the Berkshire Hathaway Insurance Group to cater to small businesses and prevent overlaps of policies that often happen with getting insured by multiple companies.
Conclusions
When it comes to commercial van insurance, there are many reasons why this type of coverage is so important. First and foremost, having the right amount of van insurance can protect your business from significant financial losses if an accident occurs.
Additionally, a good policy can help you prevent legal consequences by ensuring that you meet your state's minimum requirements. Finally, proper commercial van insurance coverage can also give you peace of mind by providing essential protection for both you and your employees while on the road.
Keeping your vans insured is vital for protecting you, your business, and others. We hope that you found this article helpful to get you started on getting insured!