THREE Insurance Review [2023]: Does It Meet Your Business Needs?
Last Updated on April 22, 2023
Small businesses have a wide array of needs when it comes to protecting their employees, property and operations. When looking for insurance, the choices can be overwhelming with numerous providers and pages of "hieroglyphic" details.
THREE insurance was created with this issue in mind – providing an uncomplicated yet comprehensive product that covers all bases for small business owners. By the end of this review, you'll have a comprehensive understanding of their solutions as well as some other excellent alternative insurers.
While the review may not cover every possible option on the market, it should give you a better feel for what THREE by Berkshire Hathaway is all about and what company and product might fit your needs.
Table of Contents
Coverage
Pros and Cons
Alternatives
FAQs
THREE Insurance Analysis Summary
THREE is a comprehensive insurance solutions from the renowned Berkshire Hathaway brand. This review includes custom coverage options such as general liability, commercial property, commercial auto, cybersecurity, workers' compensation and more.
By combining multiple types of risks, businesses can access reliable protection specifically tailored to their needs. It also safeguards against business income loss resulting from certain claims-covered incidents such as fire or weather damage.
This full review of THREE Insurance is an ideal way to evaluate the amount and quality of coverage your company requires. As a trusted name in the industry, THREE by Berkshire Hathaway offers peace of mind to countless entrepreneurs across America.
The Importance of Insurance
It is essential to review your business insurance coverage to ensure that your enterprise is well-protected against any potential risks. Businesses need to maintain separate policies for at least three areas of protection: property damage, legal liabilities, and sickness or injury.
Having a comprehensive insurance solution ensures that if any of these incidents were to occur, you would be financially compensated and able to recover from the situation.
In addition, when you create and review your THREE by Berkshire Hathaway insurance policy, consider other potentially overlooked risks such as data breaches or accidental damages caused by vehicles used in operations.
Taking all these factors into account will help protect you and guarantee a smoother journey in the event of any unexpected occurrences.
Coverages Included in "The Policy"
Insurance coverage is a must-have for any company, and reviewing different options to find the best one for your needs is crucial.
The THREE "all-in-one" solution from insurance giant, Berkshire Hathaway, not only covers business liability, but also encompasses commercial property damage and bodily injury, directors and officers liability, liquor liability, errors and omissions or professional liability, and employment practices liability.
Business interruption insurance is also part of the coverage, which will be incredibly helpful in cases when your company is temporarily closed due to a covered event.
This allows you to review each of these areas so that you can remain shielded without having to secure separate policies.
Cyber liability insurance is perhaps the most important in today's digital world; if your company stores any information digitally, then this cybersecurity insurance will protect you from the costs associated with a data breach.
Worker's compensation insurance ensures employee peace of mind when it comes to job-related injury or illness. Employers can rest easy knowing that their enterprise will be covered in the event of an injury occurring while on the job, with reimbursements available for medical expenses and lost wages.
Business auto insurance is also a valuable asset, providing protection from physical damage should an accident occur, as well as covering the cost if any damage or bodily injury is caused by the vehicle.
Moreover, cargo liability and hired and non-owned coverages guard against any malfunctioning of hired cars or goods being shipped by the company.
Always review your selections before purchasing comprehensive commercial auto insurance. It helps provide companies with a complete safety net when it comes to using business vehicles for transporting personnel or merchandise.
Property and assets insurance will protect your business property from forces of nature such as fires, floods, winds, and earthquakes, or people-induced damage such as theft and mishandling of assets.
In today's unpredictable world, protecting your business with a comprehensive insurance agreement is more critical than ever before. With the all-encompassing THREE policy by Berkshire Hathaway, business owners can rest easy knowing that they are fully covered against a wide range of risk. The emotional peace of mind that comes with having such a powerful safety net cannot be overstated. Don't wait until it's too late; ensure that your company is fully protected with "The Policy" from Berkshire Hathaway.
THREE Business Insurance Availability
As of this review, THREE does not issue small business insurance policies in all 50 states. You may get in touch with the company to find out if your area is serviceable by them.
How to Get a Quote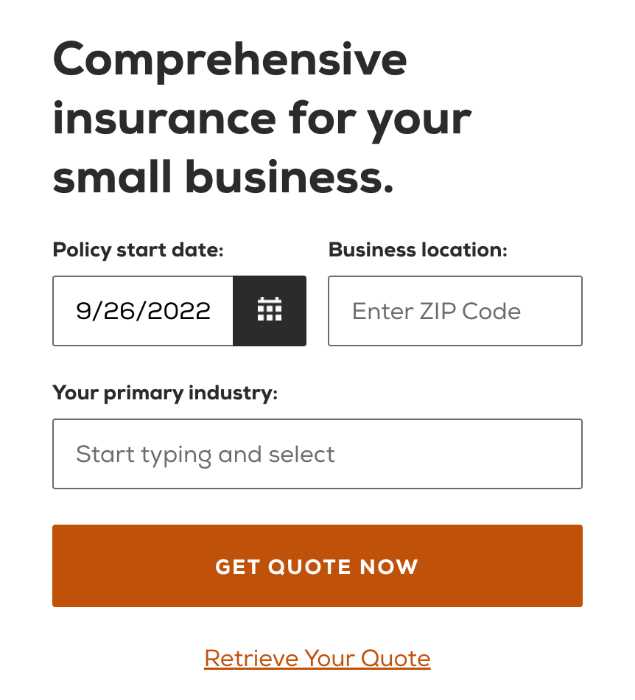 You can get started with an online quote from THREE by entering your ZIP code (to ensure it's availablity in your state) and industry on their landing page.
Please be sure to have other information such as your business activities, payroll, and vehicles so you can get an accurate quote. You could also call 1-800-507-4495 if you prefer to talk to an advisor.
Pros and Cons of a Single Policy
THREE's comprehensive policy is no doubt an innovation. This Berkshire Hathaway insurance solution is truly unique in the marketplace. There's nothing like it offered by other companies, so let's review its pros and cons before you make a decision.
Pros
The most obvious pro of a three insurance contract is simplicity. Everything is condensed into three pages, with no jargon that may be intimidating for new entrepreneurs.
Secondly, a single policy means just one bill and one insurer to call should you ever get a claim.
Lastly, it allows you to review and secure coverage that doesn't leave any gaps or overlaps which are both potentially costly as they could leave you personally liable for expenses or charge you a higher premium, respectively.
Cons
The con would be the lack of customization. A common question the company gets is: what if a certain business needs more coverage than what is included in the agreement?
The policy is designed to cover the *typical* risks faced by businesses, so if you think you have more specific needs, then you may reconsider. Luckily, they provide options for you to speak with a small business advisor who will review your current selections and hopefully find coverage gaps that a THREE assurance can fill.
For small business owners searching for a simple yet comprehensive insurance solution, look no further than THREE by Berkshire Hathaway. With the pros of a condensed and easy-to-understand policy, one bill and one point of contact for claims, and no coverage gaps, it's no wonder that entrepreneurs across America trust THREE.
While the lack of customization may be a concern, their small business advisors are always ready to help you tailor it to your specific needs. So take the leap and secure your business's future with a THREE policy by Berkshire Hathaway.
THREE Small Business Insurance Policy Cost
Three Insurance is the perfect solution for businesses that have been overpaying for lackluster business insurance. Our fantastic deal allows customers to save up to 20% off their premium with a single policy tailored specifically to the unique risks of your business. With property coverage and business income protection, you can guarantee your company will be optimally covered from foreseeable risks.
Furthermore, businesses of larger sizes have the ability to add additional insureds onto the plan for added security. After providing details about your vehicles, buildings, payroll and typical activities, you can receive fast and accurate custom quotes with remarkable savings potential. Make sure you are adequately protecting your business while saving money. Don't wait to get started, switch to Three Insurance by Berkshire Hathaway today!
How to File a Claim with THREE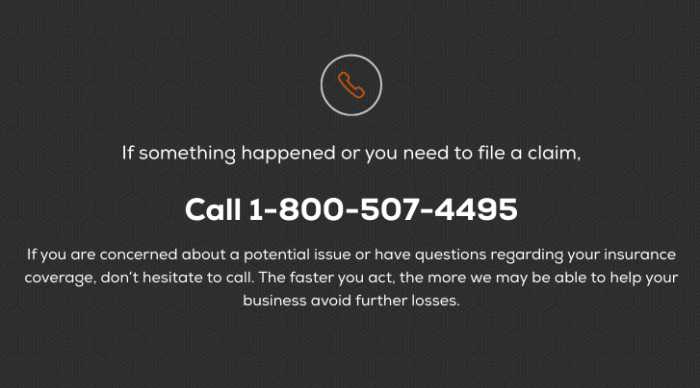 THREE's claims process is done completely through the phone. You may reach them at 1-800-507-4495 if you need to report an issue.
Alternatives to THREE Insurance
If you're still on the fence about this particular provider, we have put together some alternatives and written comparisons to other carriers for your review before making a final decision.
What is biBERK Insurance?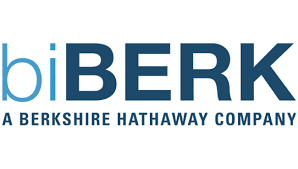 biBERK Insurance is an online small business insurance company. They offer protection solutions such as umbrella coverage and workers comp to ensure that small businesses have adequate access to options and comply with state laws.
They are also affiliated with Warrren Buffet's Berkshire Hathaway Insurance Group and launched a few years earlier in 2015. For additional information, see our full review on biBERK Small Business Insurance.
biBERK Insurance vs. THREE Business
Some notable differences between biBERK and THREE are outlined below.
biBERK offers more customization options for their coverage, allowing clients to tailor their coverage to better suit their needs, while THREE has already chosen these and will only omit those that the client does not need.
Additionally, biBERK allows policyholders to report and review claims online, which THREE does not.
What is Simply Business?
Simply Business is one of the largest insurance companies in the United Kingdom with offices in Boston and London. They have a specialty in assisting small business owners, professionals, and landlords by providing coverages such as professional indemnity, employer's liability, tenant default, and rent guarantee insurance.
They have many coverage options to choose from and have partners to bring these to many areas across the globe. To find out about these partners and more, head on over to our full Simply Business Small Business Insurance Review.
Simply Business vs. THREE Business
Simply Business offers multiple types of coverage for small businesses and allows its clients to review and manage multiple policies completely online. If you prefer to choose your coverage or you're a landlord, Simply Business might be the better alternative.
Three Business, on the other hand, offers a solutions that includes everything in one package and the claims process is over-the-phone. If you prefer fast insurance with the option to call an advisor to answer your pressing questions, Berkshire Hathaway's THREE policy may be a good fit.
What is InsuranceBee?
Started in 2010, InsuranceBee is an online provider of a variety of products for independent professionals including general liability, professional liability or errors and omissions insurance, BOP, cyber liability, workers' compensation, directors' and officers' liability, and management liability. Our review of InsuranceBee is a must-read for anyone in the market for insurance.
InsuranceBee vs. THREE Business
The main difference between InsuranceBee and THREE is that InsuranceBee specializes in coverage for consultants and freelancers, while THREE by Berkshire Hathaway focuses on small business operations such as those running physical stores with more properties.
The Bottom Line
In this day and age, traditional insurance systems are being revolutionized by companies who offer online insurance or a mix of both online and offline services for their clients. THREE from Berkshire Hathaway has made getting insurance uncomplicated by offering a beefed up business owner's policy (BOP) combining common coverage solutions into one that is three pages long and free of intimidating terminologies. We sincerely hope you found this review guide more helpful than other insurance reviews of Three available online.
FAQs about THREE
Is THREE legit and reliable?
THREE is a newer company that opened in 2019, but its developer Berkshire Hathaway has been around since 1967. Its insurance agreement is also supported by National Indemnity Company.