Dog trainers help teach obedience and manners to dogs. They are an expert in canine body language and behavior and work with both puppies and adult dogs. What is more, these often have very diverse breeds with varying needs. With this, trainers handle animals with different temperaments and therefore face multiple risks on a daily basis.
That's why you need to have dog trainer insurance. This is a form of protection from financial losses if you are sued for damages to or damages caused by your clients' canines as well as to other people. Without it, you could be liable for thousands of dollars in medical bills, property repairs and replacements, and even legal fees. Trainers must purchase a policy before continuing their operations so that they can continue to do what they love without fear of financial ruin.
Because of this, we will be talking about everything you need to know about dog trainer insurance in this article. Whether you troubleshoot behavioral problems or work on agility training, coverage is important in your line of work for protection just as training is important in owner-pet relations.
Training Risks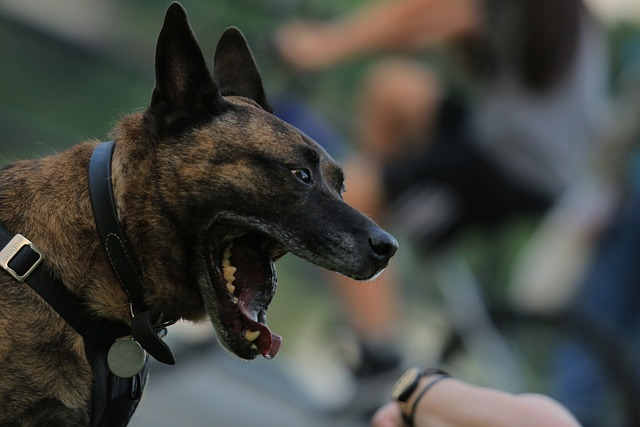 A dog training business offers many services from teaching basic commands and correcting behavioral issues, to training dogs for shows and competitions. With these many services, comes many risks. These are listed below.
Bodily injury. As with any pet training business, one of the main risks that dog trainers face is dealing with aggressive or disobedient pets. This can lead to dog bites and scratches, which can cause serious bodily injury to both people and other animals whether that's you, a jogger on the street, or another aggressive animal within your vicinity during a session.
Property damage. Another risk is personal property damage due to misbehaving dogs. For example, a dog might chew up furniture or damage other items in a home or relieve itself in a person's yard. As many training businesses are contracted for correcting behavioral issues, these are the type of situations people expect you to have under control.
Harm to dogs under your care. There is also a risk that dogs in your care might get injured or ill, which could result in veterinary bills or other associated costs. This is more common for canines being trained for agility and protection as these involve more precarious settings to simulate real-life events.
Lawsuits and legal fees. Finally, there is the risk of being sued for animal cruelty or neglect if, for instance, one of the pooches under your care becomes dehydrated. This could lead to costly legal fees that you may be required to pay out of pocket.
What Should Be Included in Your Dog Trainer Insurance Policy
To protect yourself from these risks, it is important to select a comprehensive policy that includes the following dog training coverage types:
General liability insurance. General liability insurance is the most basic type of dog trainer policy that provides protection for third-party claims related to bodily injury or property damage. Clients would expect the trainer (and your employees, if you have any) to be able to control the dogs you handle and prevent them from causing harm to other people or someone else's property.
Product liability coverage. This type of policy provides coverage for claims related to defective products that harm clients, their pets, or other third parties. For example, a trainer might be sued because a pet was injured by a defective shock collar or leash or suffered a bad reaction to a prescribed treat.
Professional liability insurance. Also known as errors and omissions (E&O) coverage, this policy should be part of your dog training insurance because it protects a trainer from claims related to negligence or professional mistakes while working with dogs.
For example, if a customer becomes dissatisfied with your pet training sessions and you are sued for the inconvenience, this type of policy may help cover your legal defense costs and any damages you are required to pay.
Business personal property coverage. This type of policy, also called commercial property insurance, provides protection for your business property, such as your office and training equipment. It may also provide coverage for any lost income that results from a covered claim, such as revenue lost because you are unable to open your after a fire or other covered event.
Workers' compensation. If you are not an independent contractor and run a larger training facility with more pet trainers, most states will require you to carry workers' comp and provide your employees with insurance coverage. This is especially important given the nature of your work.
Animal bailee coverage. Also called kennel coverage, is a form of pet care insurance that provides liability protection in case your operation is found legally responsible for loss or damage to animals that are under your care.
For example, if a pet suffers an injury or acquires kennel cough while staying at your kennel or training center, this type of policy may help cover medical bills incurred by the pet owner and other associated costs such as medication.
Dog Trainer Insurance Cost
The cost of your policy depends on a number of factors, including your business location, the types of services you provide, and the level of coverage that is required for these services. For instance, if you only teach basic commands, your premiums may be lower than for someone who offers more specialized training services, such as competitive dog training. Additionally, some states require owners to carry higher levels of dog trainer insurance coverage due to the risks involved in working with pets on a regular basis.
On average, you can expect to pay between $200 and $1,000 per year for this type of pet trainer policy. However, it is always a good idea to shop around and compare quotes from multiple providers in order to find the best possible value for your business.
How to Look for the Best Trainer Insurance
Looking for the best deals for coverage can be a bit daunting, as many different insurers are offering a variety of policy options. However, some general tips can help you find the right policy.
First and foremost, do your research to learn about the different types of coverage available and the specific risks covered by each policy. This will help you decide which type of dog trainer policy makes the most sense and what level of protection you need in order to mitigate any potential risks. Even if commercial auto is recommended for most small businesses, it would not make sense if your client brings their pooches to you if you own a center.
Once you have a general idea of what you are looking for, start shopping around with different insurance providers. Ask friends and other dog trainers for recommendations, and take the time to compare quotes from multiple providers before making a final decision. Additionally, try to look for deals or discounts that may be available through certain insurers, such as multi-policy discounts or early payment discounts. By taking all of these steps, you can find the best possible dog trainer insurance deals.
Top Providers of Dog Trainer Insurance
If you are looking for affordable trainer insurance, there are many insurance companies to choose from. However, consider getting quotes from a range of well-known carriers in the pet care insurance industry, such as Chubb, The Hartford, GEICO, State Farm, Travelers, Thimble, Hiscox, biBERK, and SimplyBusiness. You can also contact local independent agents to learn more about their offerings and pricing options.
Chubb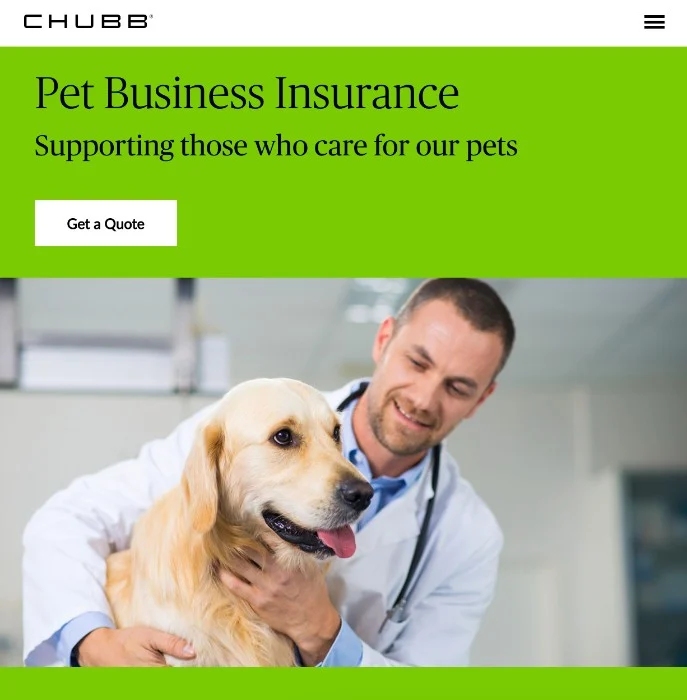 Chubb is a global insurer for personal and commercial property, casualty, and other specialty areas. As such, they provide products for both pet owners and pet care providers including trainers. Their wide range of insurance products are tailored to the unique needs of dog trainers, and Chubb offers a business owner's policy combining general liability and property coverage, as well as other forms of protection such as animal bailee, kennel cough, and more.
The Hartford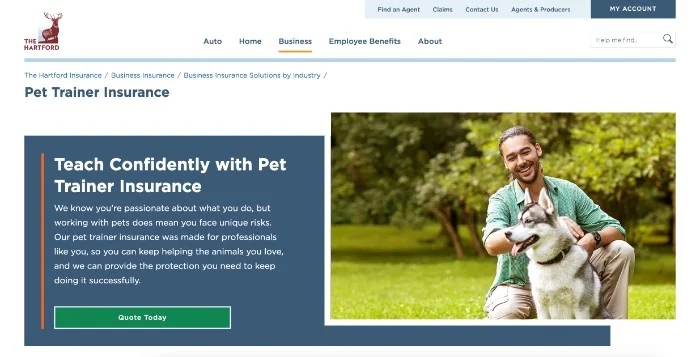 The Hartford's dog trainer insurance is a comprehensive policy solution that includes dog trainer liability coverage, workers' compensation, commercial auto, data breach, product liability, and animal bailee.
This company is among the largest individual and business insurers in the United States, serving more than 40 million customers across the country. The company specializes in a wide range of personal and commercial lines of policies, including professional liability insurance and property damage protection.
State Farm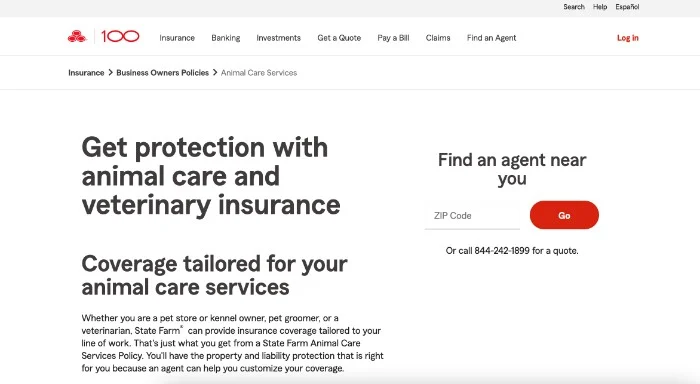 From groomers to kennel owners, State Farm has insurance coverages to address risks involved in running a dog training business, from medical expenses resulting from dog bites to property damage to a client's home and accidental injury to animals under your care, this provider is good for small businesses with only one to a few pet trainers because they have customizable policies to fit your needs.
Thimble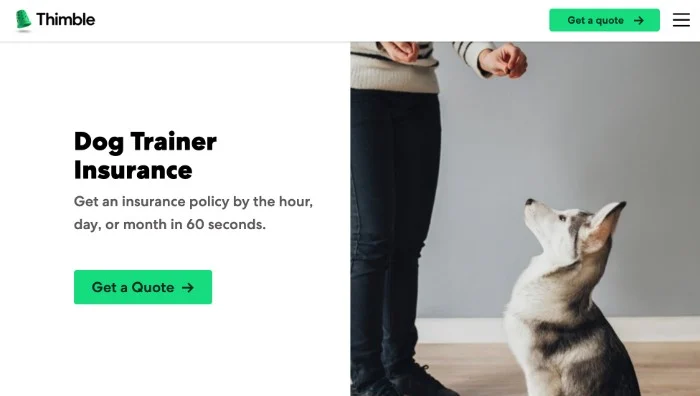 Thimble provides coverages for dog training business owners. To keep yourself and your client's safe and protected, insurance coverage includes general liability, safeguards for homes during training sessions, as well as equipment protection for the tools you use to teach tricks.
This broker features a mobile app used by many dog trainers around the country as this makes it easy to get quotes and purchase a policy directly from your mobile device. Their intuitive app allows you to easily manage your policies, update information as needed, and submit claims in just a few simple steps. With affordable rates and responsive customer service, Thimble is the ideal choice for any dog trainer looking for on-demand protection. Read our comprehensive Thimble insurance review right now.
Travelers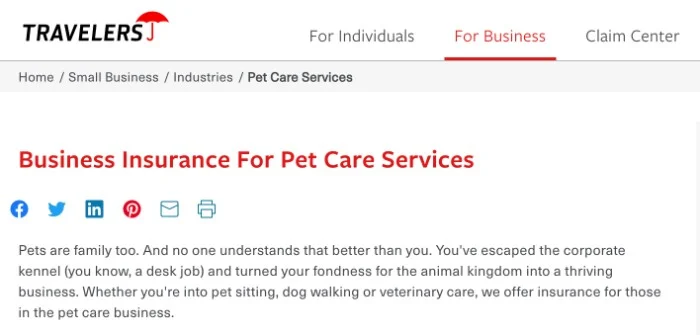 Travelers provides insurance for many types of enterprise from pet walkers to animal boarding houses. Of course, this includes your dog training business since they provide coverage for third parties in the form of general liability, pet owners with kennel liability and animal floater, and dog trainers such as yourself with business income expenses.
Hiscox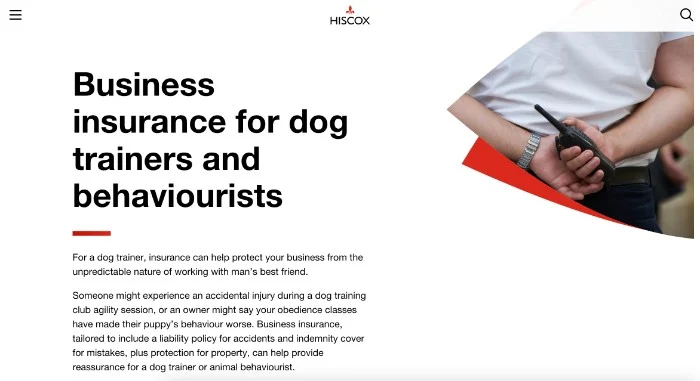 Whether you are a basic dog trainer or an expert animal behaviorist, Hiscox has trainer insurance tailored to your operations with a wide range of insurance products from general liability to equipment protection. They have been around for over a century and specialize in only commercial coverages so they would be a reliable partner for a bigger dog training business or an independent dog trainer. Find out more in our complete Hiscox insurance review workup.
biBERK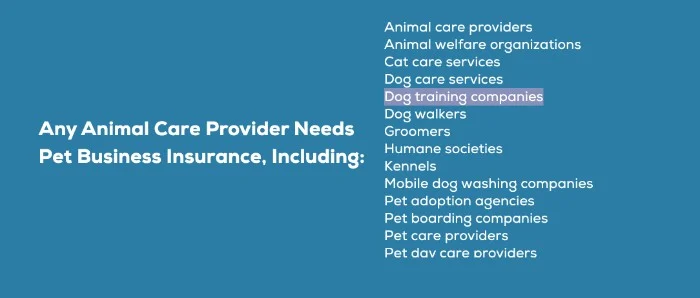 If you are looking for a direct provider of trainer insurance, look no further than biBerk. This provider offers insurance for dog trainer packages that include workers' compensation, general liability, cyber liability, commercial auto, and umbrella coverage to protect against expenses beyond your set limits.
They are a trusted insurer and could save you up to 20% on your insurance premiums as there are no commissions involved.
SimplyBusiness

A broker of business insurance coverage from different companies, SimplyBusiness offers dog trainer insurance that includes professional liability and workers' compensation. They offer fast quotes and even instant comparisons from different providers, so if you would like to explore your many options for trainer insurance, then you might want to check out SimplyBusiness.
The Bottom Line
Any business owner will tell you that getting insured is a necessity. Many businesses use insurance as a way to protect themselves from risk, whether it be theft, legal action, or natural disasters. Your dog training business is no different.
There are several risks associated with operating a dog training business, such as liability for bites, animal illness, injury or death, and property damage. This makes it all the more important for dog trainers to get insurance and secure financial protection.
In other words, insurance for dog trainers can give business owners a sense of security in knowing that their company is safeguarded against anything unforeseen. For all these reasons, it's clear that dog trainers need to be insured.