Nail Tech Insurance Guards Against Legal Liabilities
Last Updated on April 24, 2023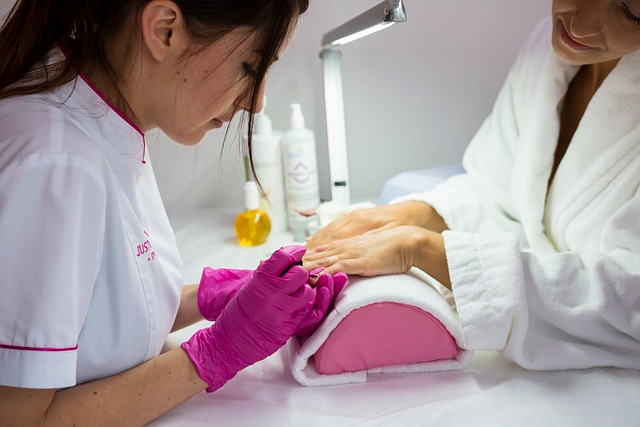 The personal services beauty industry is booming, with nail technicians being among those high-demand professionals. Consequently, the need for nail techs to be adequately insured is becoming ever more apparent. Not only does proper insurance protect you from potential liabilities and legal repercussions, but it can also provide peace of mind.
From understanding the types of policies available to exploring the benefits of having nail tech insurance – this article will provide an overview on all things related to getting insured as a beauty professionals.
Overview of Nail Technician Insurance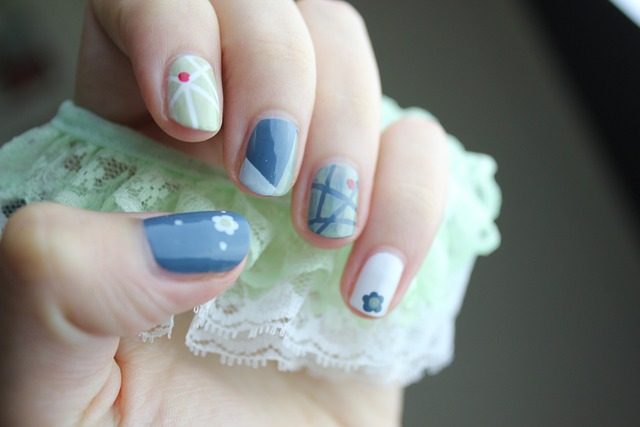 Nail technician insurance is a must-have policy for fingernail polish artists and salon owners. This form of coverage gives you the layer of protection you need to safeguard your finances in case a claim arises from professional negligence or error.
In addition to covering legal defense fees, that otherwise would come out of your own pocket, nail salon insurance can help absorb the costs associated with medical bills, property damage, or other injuries. Having professional nail technician insurance in place securely provides not only financial security but peace of mind as well.
With this type of coverage and protection, nail tech professionals can feel confident that if a claim does arise, they are covered with the necessary funds to cover any expenses.
Types of Coverage Available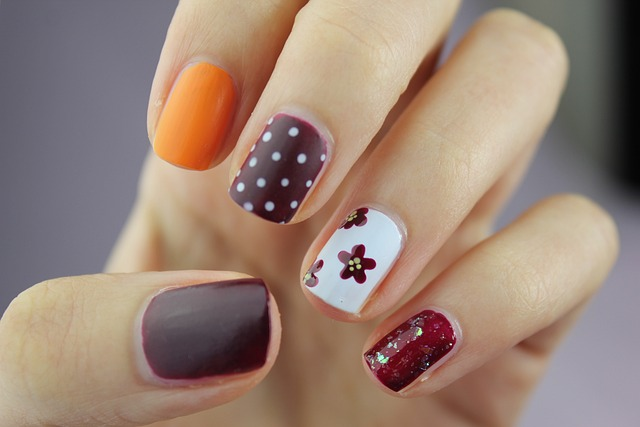 Nail technicians require comprehensive insurance protection to best safeguard you against risks, which is why they often turn to one of the four types of coverage available: general liability, professional (or "errors & omissions") liability, commercial auto liability, and business property.
Each type has its advantages and purposes, from protecting nail technicians from financial damages due to a third-party lawsuit filed against their salon to covering legal defense costs related to the fingernail service provided.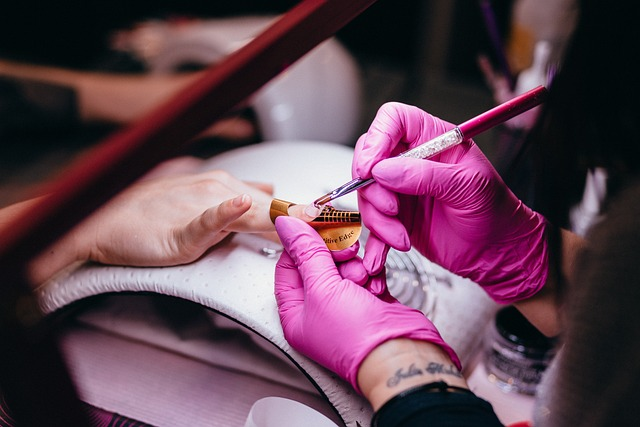 A Quick Story…
Amanda had always been talented with her hands and was eager to start a career in the beauty tech industry as a certified nail tech. She began doing manicures and pedicures, applying acrylic nail extensions, and even creating intricate fingernail art designs.
On one particularly busy day, Amanda was rushing from one client to the next when one of them asked for a style that she wasn't quite ready for due to allergic reactions it might have caused.
Despite the potential risk of skin irritation, Amanda agreed and applied the false nails anyways. Soon after, her client experienced an allergic reaction so intense she had to be taken to the hospital. That's when Amanda discovered how important it was to have nail technician insurance in case of any legal claims against her beauty business.
Fortunately, with insurance in place, she was able to avoid an expensive legal battle. In spite of her mistake, Amanda learned an invaluable lesson; you can never underestimate the importance of insuring yourself against liability risks in the beauty technician industry!
These different types of insurance can play a crucial role in protecting nail technicians' investments, so it is important for those who run nail salons to familiarize themselves with them for peace of mind and security.
Each type has its own unique advantages and purposes — more on this in the next section.
What Does It Cover?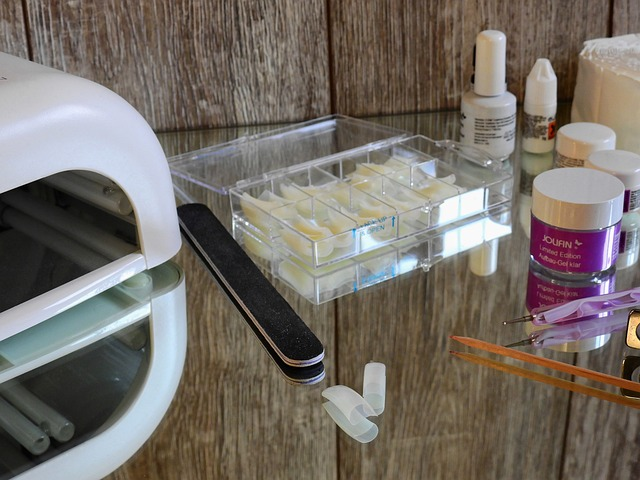 General liability insurance
GLI protects against any third-party claims of property damage or bodily injury that could arise due to negligence or error on your part. In the instance of a slip and fall incident within the salon, general liability can cover potential legal fees and even associated medical costs.
Moreover, general liability insurance for nail tech specialists will protect you and your business against advertising-related risks like claims of libel and slander. By investing in general liability insurance, you can be sure you're protected from any potential financial losses due to a third-party lawsuit.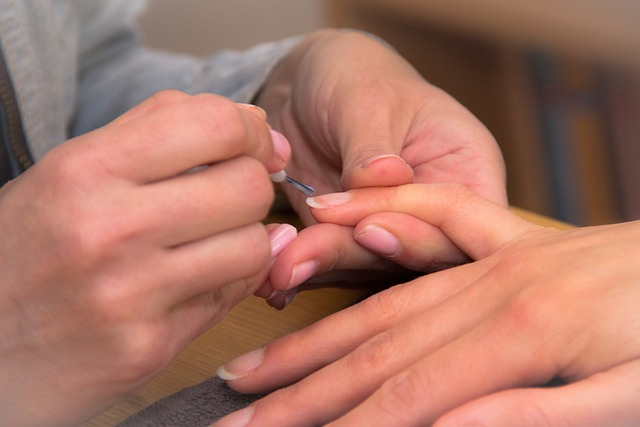 Professional liability insurance
Also known as errors and omissions coverage, is an important resource for nail technician pros. It provides much-needed protection from any professional tech mistakes that may be made, such as accidentally using the wrong product on a customer's nails. This happens more often than you think.
Not only does the policy offer coverage for these mishaps, but it can also help to defend against third-party claims of negligence or malpractice associated with a professional's services. Such comprehensive liability insurance gives nail technicians the assurance they need while providing fingernail services.
Commercial auto insurance
This protection is an important and necessary resource for mobile nail technicians. It protects you from financial losses resulting from any type of vehicle-related accident, such as bodily injury or property damage caused by a nail technician or their clients while operating their vehicle for business-related matters.
Commercial auto insurance policies cover all types of vehicles used for conducting mobile business operations, including cars, vans, trucks, and even trailers.
In addition to providing basic liability protection against bodily injury and property damage claims, it also covers medical expenses for passengers in the event of an accident.
It can also provide comprehensive coverage for legal defense costs associated with lawsuits resulting from the use of a mobile vehicle by a nail technician during their job duties.
Commercial Property Insurance
This helps protect your investment in case there is damage done to the salon's physical space — such as theft, fire, and vandalism. Business property insurance can help cover repair and replacement costs if such an unfortunate event were to occur at your salon.
Who Needs Nail Tech Insurance?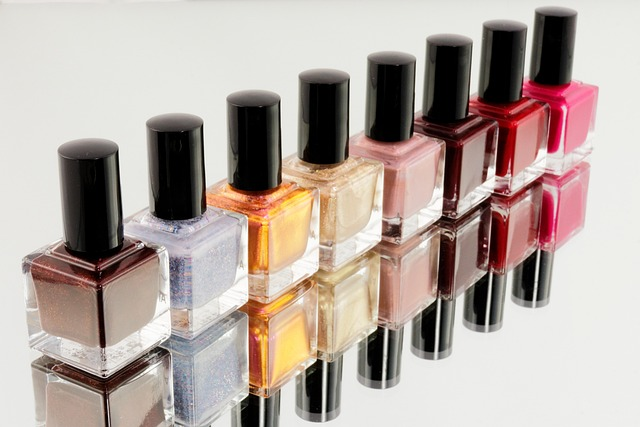 Nail technicians of all kinds should consider securing adequate coverage, whether they run their own salon or provide mobile services. Having the best nail tech insurance can help protect you from any financial losses due to negligence, errors, or accidents.
Additionally, some states may even require that a certain level of business liability and property insurance be obtained before a nail technician can obtain a license and operate legally.
No matter what type of service you offer as a nail tech, investing in the right kind of insurance policy is the best way to protect yourself from potential financial damages resulting from unforeseen events like lawsuits or accidents.
Nail Technician Insurance Cost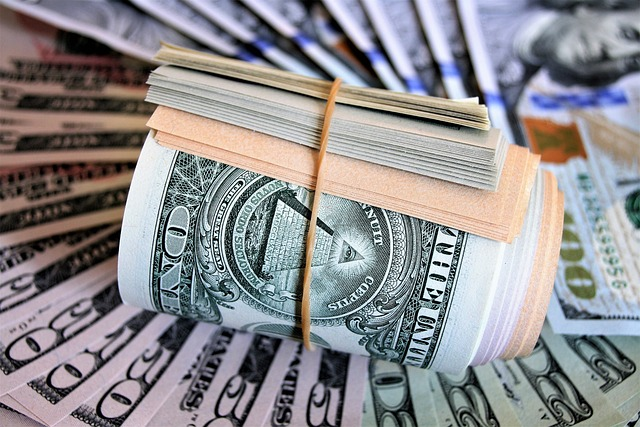 As a nail tech professional, it's important to understand the cost of insurance. The premiums of general liability policies typically start around $300 annually and protect business income like client fees and salary when negligence lawsuits are filed against you.
However, if your business requires more coverage, professional liability can range from $400-$1,000 per year as well. Lastly, commercial auto and property insurance could require unique premiums due to deductible levels and the value of your mobile vehicles.
No matter what type of insurance policy you decide to purchase, it's best that you're adequately safeguarded against unforeseen events.
Benefits of Nail Tech Insurance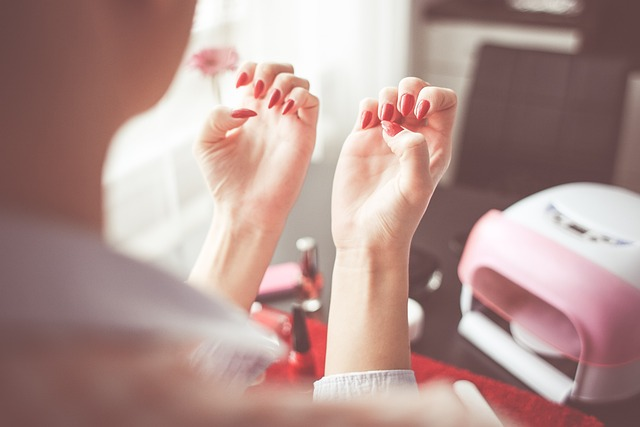 Having liability insurance for nail tech professionals is essential for those who wish to operate their businesses safely and securely without worrying about potential financial repercussions due to negligence or error on their part.
By investing in the necessary insurance plan, owners of nail salons and even mobile services can gain peace of mind knowing that their investments are protected from any potential legal claims and expenses.
Moreover, nail technician insurance helps to demonstrate professionalism by showing clients that you care about protecting their safety and well-being. Not only does this create a more pleasant experience for customers, but it also adds brand credibility.
Success Multiplier
Ultimately, having adequate nail technician liability protection is essential for running a successful salon or mobile operation. It protects against financial losses due to negligence or error, as well as offers comprehensive coverage for medical and legal costs associated with services rendered at the salon.
Some of the best benefits of having a comprehensive insurance policy in place are clear:
professional liability protection
financial security
peace of mind
Investing in the right coverage can provide you with the secure foundation necessary to fulfill all your salon needs.
The right nail tech insurance policy ensures that mistakes or malicious acts won't put you at risk, along with many other benefits such as credibility, customer satisfaction, and financial protection.
Shopping for the Right Policy
When shopping for the right nail technician insurance policy, it's important to consider your business's unique needs and financial situation. Factors such as location, number of employees, type of services offered, years in business, and more must all be taken into account.
Finding a reputable insurer who understands the risks that come along with running a salon is also essential. A good way to start this process is by researching customer reviews on different insurance companies' websites.
Furthermore, comparing quotes from multiple providers can best help you determine which policy suits your needs while staying within your budget. Doing due diligence before committing to a provider will ensure a positive outcome.
When looking for the right coverage, make sure to consider what type of services you offer and the risks that come with them. It's crucial to understand which insurance policy is the best fit for you since each offers distinct benefits. This is especially true for mobile nail tech services catering to busy individuals who want to treat themselves to a little pampering.
3 Top-Tier Nail Technician Insurance Providers
For those looking for reliable and comprehensive insurance plan for their nail tech business, the best providers that stand out from the rest are: Next Insurance, Thimble, and Hiscox.
All three of these companies offer excellent policies tailored to the needs of professional nail technicians. They provide a wide range of options including professional and general liability protection, commercial auto insurance, property damage coverage, workers compensation and more.
Whether you're a nail salon professional, a home based nail technician, or mobile operation, don't underestimate the significance of insurance. Without it, you're leaving yourself vulnerable to unexpected risks that could cost you dearly in the long run.. With competitive pricing and flexible plans to suit any budget or situation, these top-tier providers make finding the right insurance policy easy and stress-free.
NEXT Insurance
Nail tech specialist insurance from NEXT is the perfect solution for any nail technician liability coverage needs. Whether you're just starting out or have been in up and running for years, the low cost policies provide excellent value and a worry-free protection plan.
They offer an instant online quote, a mobile app to make managing your policy even easier, and certificate of insurance issuance in minutes. Get the best insurance policy that suits your unique needs today! Read our complete NEXT insurance review here.
Thimble Insurance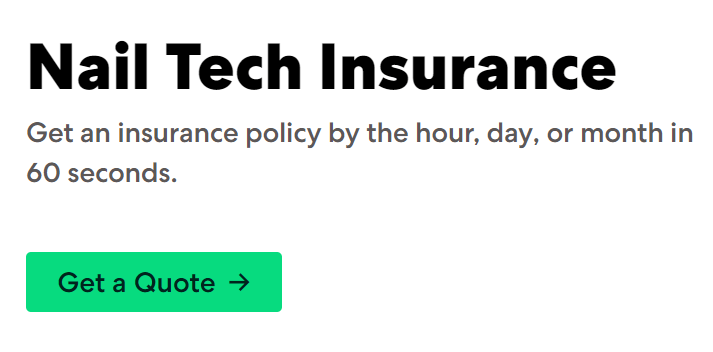 If you're a nail technician looking for liability insurance, Thimble is a great choice. Their policy is cost-effective, affordable and tailored to meet your specific needs.
Plus, you can get a free quote in minutes using their convenient website or mobile app. Thimble can help protect your business by providing the COI you need so you can work with peace of mind knowing that proper liability insurance is in place.
And if needed, you can purchase coverage on an hourly basis to meet your temporary needs. Before getting a free quote – check out our full Thimble insurance review!
Hiscox Insurance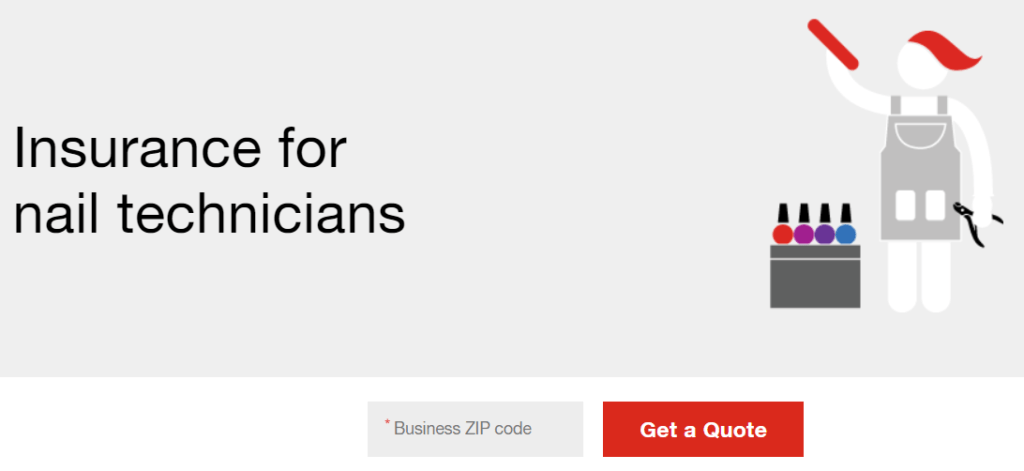 Nail technician business insurance from Hiscox offers full service to professionals in the decorative fingernail tech industry. With a long-time reputation as a giant in the insurer space, customers can enjoy the benefit of full protection with consultation from experienced experts.
Not only do you receive full package plans suited to your individual needs and budget, but you get it from a dedicated team who has been around for many years. Get a free quote today from an insurer dedicated to serving small businesses. Find our updated Hiscox insurance review here.
Honorable Mention
Insurancebee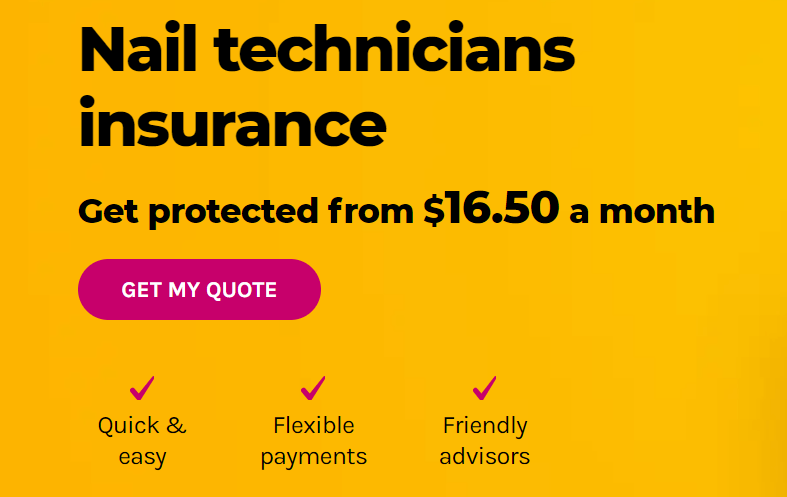 With InsuranceBee, nail techs don't have to worry about legal and financial risks. Their quick and easy solutions are designed to provide all round coverage to nail technicians, and made with flexible terms at low cost.
InsuranceBee's policies are a stress-free solution to your needs, so you can focus on serving your clients without worry. This InsuranceBee review covers its pros, cons, and best solutions.
Common Exclusions in a Policy
It is important to understand what is and is not covered in a nail technician insurance policy. Generally, professional liability coverage does not cover any personal or intentional acts, or any errors or omissions resulting from professional negligence.
Other common exclusions include damage caused by chemical treatments and procedures, false advertising claims, property damage and personal injury from infectious diseases, and consequential losses due to third-party lawsuits.
Be sure to understand what is not covered in your policy before you purchase it so that there are no surprises down the road.
Conclusion
No matter what kind of nail technician business you run, salon, home-based, or even mobile, it's important to make sure you have adequate insurance. From NEXT to Hiscox, there are excellent options that can provide you with the protection and peace of mind you need.
Remember, it's best to compare policies carefully and understand exactly what is covered and excluded before committing to a business insurance policy. Get a free quote today from one of the best insurance, so you can get focus you're efforts on providing a valuable service to your community.