Errors and Omissions (E&O) Insurance for Agents
Last Updated on November 29, 2022
Insurance agents are responsible for helping individuals and businesses find the right policies to meet their needs. This involves assessing their risk profiles, advising them on their coverage options, and helping them select the most suitable plans. Agents not only provide valuable services in this way, but they also play an important role in educating people about the importance of being properly protected.
Additionally, agents must take steps to protect themselves by having appropriate liability coverage, such as errors and omissions insurance. This protects them from financial damages resulting from any mistakes, malpractice claims, or other issues related to the work they do.
As a result, agents need to be well-versed in the ins and outs of both providing services to clients and maintaining their own protection. Without competent and knowledgeable advisors at the helm of each claim, insurance would not be nearly as effective in ensuring that all parties are adequately covered under various circumstances. Thus, we can see just how important this role truly is for individuals and businesses alike.
In this article, we will explore the need for errors and omissions insurance coverage, what it exactly covers and how it can benefit them, and other things to consider when selecting a policy such as providers, and other tips before getting started on getting insured yourself.
What is errors and omissions insurance for insurance agents?
Errors and omissions insurance, also known as professional liability insurance and shortened as E and O or E & O, is a type of coverage designed specifically for professionals. This kind of policy protects agents from financial losses that result from errors or omissions in the work they do on behalf of their clients.
For example, if an agent fails to issue a client's claim by mistake, errors and omissions insurance can help to cover any resulting losses. By providing security against claims like these, an agent can better focus on serving their clients without spending time and effort worrying about potential financial risks.
Not to mention, when initially meeting with potential clients, convincing them of your trustworthy nature is often an obstacle for agents. After all, the job of an agent is to help people protect their lives and their finances against unforeseen risks, which means having high integrity and responsibilities. However, when agents have an errors and omissions policy through reputable companies, this can act as a powerful signal of trustworthiness.
Because these agents are putting their own money on the line to secure their own futures, potential clients feel more at ease trusting them with their own lives and finances as well. This gives agents who choose to do so an edge in building lasting relationships with their clients and a reputation for being reliable and trustworthy. Thus, having an E & O policy is a critical step in establishing oneself as a credible agent .
What does errors and omissions insurance cover?
Errors and omissions (E&O) insurance protects against a broad spectrum of cases in which an insurer makes an error or falls short in responsibilities. For example, this type of liability coverage may cover claims related to the mishandling of client data, disputes over the accuracy of advice given or the misrepresentation of benefits and terms associated with certain policies. Additionally, E&O insurance may also extend to cases where an agent has been accused of engaging in unethical or fraudulent behavior.
E&O insurance protects agents from legal issues that could come up as a result of their professional duties. By providing financial support for these types of claims, it allows agents to focus on conducting business without worrying about the potentially high costs that come with such situations.
How much does insurance agents' E & O cost?
Costs can vary depending on several factors, including the specific company providing the coverage and the individual agent's level of experience and reputation. However, in general, agents can expect to pay anywhere from $500 to $1,000 per year for E and O coverage.
It's important to note that this cost can also vary depending on the type of coverage coverage limits chosen his/her claims history. For instance, some policies may cover only certain types of claims or have limits on the maximum amount that can be reimbursed for a claim. If you sell policies from multiple providers as opposed to one specific company, then you could expect to pay higher premiums as there are more stakeholders involved.
Overall, while the cost of professional liability protection may seem like a significant expense for agents, it can provide peace of mind and financial protection if a mistake or error occurs in their professional duties. In the long run, this coverage can potentially save agents from having to pay costly legal fees and damages.
How can I get the best e and o insurance for insurance agents?
There are a few steps that independent agents can take to ensure they have the best E&O coverage for their needs.
First, it is important to work with a reputable and experienced insurance broker who can assess the specific risks faced by the agent and help find appropriate coverage.
Agents should also regularly review their policy to make sure it still meets their needs and consider increasing their coverage if necessary.
Additionally, staying up to date on industry developments, compliance requirements, and best practices can help prevent errors or omissions in the first place.
Finally, implementing risk management strategies, such as regularly reviewing claims processes and providing ongoing education for employees, can also help minimize potential issues.
Ultimately, taking these steps can ensure that you have the best E&O coverage to protect tyour business and reputation.
5 Leading Providers of E&O Insurance for Insurance Agents
While you may already be familiar with some of the larger companies, we compiled some of the top providers and compared them to help you make a decision based on your preferences:
InsuranceBee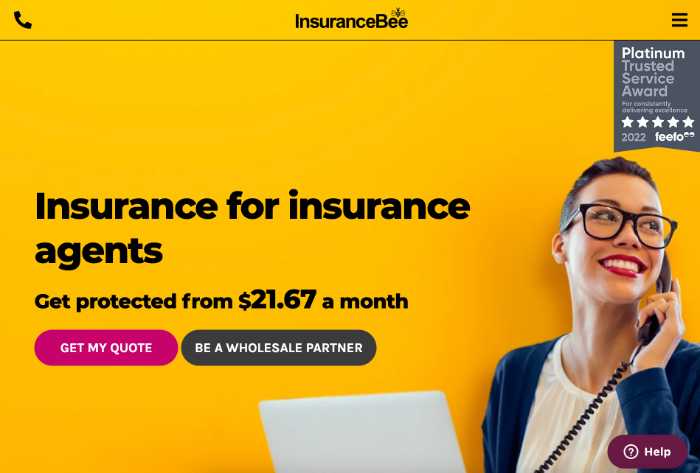 InsuranceBee offers affordable liability coverage tailored specifically for your profession. Their licensed advisors can help customize your coverage and buy a policy all online.
Offered at just $22.50 a month, professional liability insurance from InsuranceBee provides excellent protection for independent firms and professionals against general and management liabilities. Additional coverage is also available from the company for various other risks faced by these businesses.
Hiscox
Hiscox has been a go-to provider of insurance for professionals for many years. The company is accessible through multiple channels such as its website or phone, and Hiscox also has many offices in the United States that people can visit.
Hiscox's professional liability insurance is a great deal, ranging from $22.50 to $60 per month. When you become a Hiscox customer, excellent customer service, expert advice, and policy customization is their priority.
biBERK
biBERK is a direct provider created by Warren Buffet's Berkshire Hathaway Group. They not only offer E and O insurance for insurance agents, but multiple other professions as well. If you purchase a policy through them, they will be available to help with the entire process from start to finish–including consulting and policy management. Their goal is to keep things simple by only offering key coverage options. You can reach them via email or phone call.
Lastly, by having no broker's commission, don't get a policy before reading our biBERK insurance review and you could save up to 20%! on your premiums. If you are a relatively new professional or have a small business as in an agency, biBERK may be the best option for you.
NEXT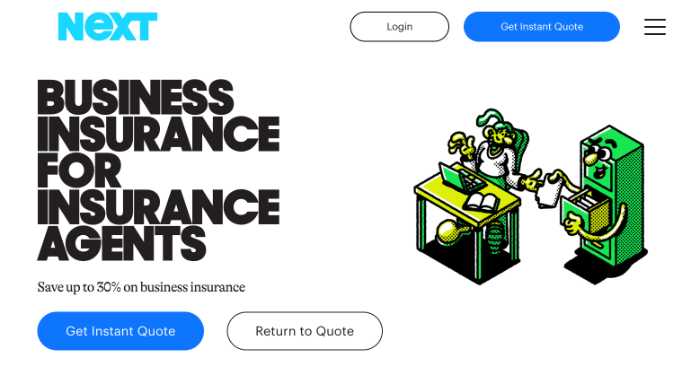 NEXT is a modern, tech-driven provider that combines technology and expertise to provide services to its clients. They offer a wide array of coverages and multiple channels to purchase your policy, including a mobile app wherein you can access yours at any time.
NEXT is also among the most affordable providers of insurance with policies as low as $11 monthly and packages for varying policy limits that go from basic to pro. If you are looking for affordability and ease of use, check out the full NEXT business insurance review and find the best provider for you.
THREE
THREE by Berkshire Hathaway has a comprehensive package called "The Policy" that is designed to meet the needs of many different industries and avoid the overlaps that many are all too familiar with.
They have become the preferred provider for small businesses across the country with thousands of policies because they offer a combination of coverage options and affordable rates that are unmatched in the industry.
THREE is the company to trust when you need property or liability insurance and even unique coverages. Not only do they offer tailor-made services, but their bundled policy could save you up to 20% on your premium as THREE is a direct provider under Berkshire Hathaway.
In short, having multiple policies from separate insurers can be quite costly and time-consuming–discover more in our THREE insurance review walkthrough.
The Bottom Line
Agents have a lot to think about when it comes time to securing insurance coverage for their clients. Not only do they need to stay informed on industry trends and changes in regulations, but they also need to be able to help clients understand the risks they face and choose the right coverage for their needs.
Given all of these demands, professionals must prioritize their own insurance needs to maintain the integrity of their work. After all, what good is it to provide expert advice if you don't have a basic level of coverage yourself?
E & O insurance protects agents from potential legal risks and allows them to maintain a high level of service for their clients. So if you're an agent, make sure you have adequate coverage so that you can excel in your field!